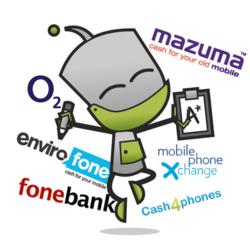 Apple was the most depreciating manufacturer in Q3 2012 due to the iPhone 5 release
(PRWEB UK) 27 February 2013
- Prices have been mapped over a 90 day period ending 02/26/2013

CompareMyMobile.com records market pricing every 15 minutes
The data is complied from 40+ leading outlets like Mazuma Mobile, Envirofone and O2 Recycle.
CompareMyMobile, the UK's leading provider of gadget recycling comparison, announced earlier today the top phone manufacturers loosing trade in value on their handsets over the last 90 days (this period ended on 02/26/2013). This data has highlighted some of the lead brands in the mobile arena that are dramatically loosing their value in the second hand market.
Accredited by the press, CompareMyMobile.com gathers data from over 40 different recycling companies. These companies all have different exit routes for their refurbished and recycled stock, making the collective pricing data the most robust on the market. Gadget recycling is now a multi billion pound business commanding huge volumes of mobile devices being traded in every day.
The top 10 depreciating brands:
Motorola - Lost 32.26% over 90 days
Sony Ericsson - Lost 20.88% over 90 days
Sony - Lost 18.10% over 90 days
HTC - Lost 16.24% over 90 days
Apple - Lost 12.83% over 90 days
Samsung - Lost 10.16% over 90 days
BlackBerry - Lost 10.08% over 90 days
Nokia - Lost 6.74% over 90 days
Google - Lost 5.30% over 90 days
LG - Lost 0.26% over 90 days
There are some important facts Compare My Mobile pointed out. The release of new handsets for manufacturers like Sony Ericsson, HTC and BlackBerry are responsible for proportions of brand drops as loyal fans rush to trade in their old mobiles for the latest device.
Another key aspect to note is the release of the iPhone 5 back in Sept 2013, which caused a huge 367% spike in Apple recycling. This caused the trade in value of all the manufacturers devices to plummet by 40% between 8/09/12 to 8/10/12. This value slowly grew back over the following weeks which may of made Apple the most depreciating manufacturer in Q3 2012.
Extended detailed data available from ashley(at)comparemymobile(dot)com. or get him on Google+
An example of a device that caused Motorola to lose 32.26% of there trade in market value over the last 90 days is the Motorola RaZRi which managed to depreciate 43.05%. However the biggest depreciating device was the HTC HD7 Pro which managed to depreciate 57.14% over 90 days.
The top 10 depreciating phones:
HTC HD7 Pro Lost 57.14% over 90 days
Nokia 5230 Lost 50.00% over 90 days
Motorola RaZRi Lost 43.05% over 90 days
Samsung Galaxy Ace Lost 42.94% over 90 days
BlackBerry bold 9000 Lost 42.50% over 90 days
Sony Ericsson XPERIA X10 mini Lost 42.50% over 90 days
HTC HD2 Lost 41.76% over 90 days
Apple iPhone 3G 8GB Lost 37.50% over 90 days
Samsung Jet S8000 Lost 35.48% over 90 days
HTC Sensation Lost 34.95% over 90 days
CompareMyMobile.com have taken pride in partnering and offering this sort of cutting edge data to leading publications online and have been featured in industry magazines like Mobile News, T3 and WebUser.
About Compare My Mobile
Founded in 2009, Compare My Mobile is the UK's #1 source for independent mobile phone, tablet, sat nav, laptop, iPad, iPod and games console recycling price comparison. It delivers customers confidence in making the difficult decision of where to recycle their old phone safely and for the most money. CompareMyMobile.com is 100% impartial, comparing prices from more than 40 recycling stores.
Media Contacts
Andrew Beckett
CompareMyMobile.com,
Tel: +44 (0) 7810 882 278
Email: andrew(at)comparemymobile.com