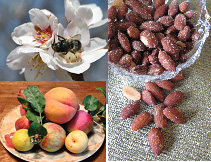 "We are pleased to team with Dale Hardware to encourage gardeners to raise gentle-natured mason bees, and supplement the stressed honey bee population for food pollination." said Dave Hunter.
Fremont, CA (PRWEB) February 27, 2013
The almond industry, California's biggest agricultural exporter, desperately needs more pollinating bees. Dale Ace Hardware, in Fremont, CA, is responding by partnering with Crown Bees, a Washington-based leader in the mason bee pollination industry, to introduce local gardeners to solitary mason bees. Raising mason bees can supplement the declining honey bee for highly efficient food pollination.
In a special in-store event, Saturday, March 2, and Sunday, March 3, 2013, gardeners will discover how these solitary pollinators and bee-safe products can increase yard and garden yields, and later help commercial orchards. The event, details at http://www.dale-hardware.com, launches local involvement in BeeGAP, a national community movement to increase bee population diversity at the gardener level.
"As gardeners become successful raising these gentle pollinators, they can sell their excess bees through Crown Bees' BeeGAP program," said Dave Hunter, Crown Bees owner and event guest speaker. "The increased bee population can then be distributed to other gardeners, farmers, and commercial orchards, like the troubled almond industry," he said.
Mary-jon Penovich, Dale Hardware nursery manager, said, "This is a win-win solution for pollinating our food supply. Our customers can increase their own fruit and nut tree yields, and give back to the community through commercial growers who put food on the table globally. Teaming with Crown Bees supports our basic principle of providing quality service and products to meet the needs and interests of our growing community and customer base."
Hunter pointed to California's nearly $3 billion almond industry as a great example of how a more diverse bee population could increase crop pollination. California growers, who supply about 80% of the global almond demand, are challenged this season by potentially fewer honey bee pollinators. An estimate of "one-third less bees per hive to pollinate the orchards" is predicted by extension apiculturist Eric Mussen of the UC Davis Department of Entomology.
"Mason bees are a great pollination solution for almonds," Hunter said. "These tiny, hard working bees can work cooperatively alongside honey bees." It's estimated that about 6 solitary bees can pollinate a fruit tree compared to about 500 honey bees. Additionally, they can increase fruit production in certain crops, and are not affected by the same Colony Collapse Disorder (CCD) or diseases as the honey bee.
Hunter said recent research indicates honey bees tend to become more effective pollinators when teamed with highly efficient mason bees and other non-managed wild bees. The research, published in Proceedings of the Royal Society, was conducted in California's almond orchards in Yolo, Colusa and Stanislaus counties by an international research team.
For more information about raising mason bees and participating in the BeeGAP program, visit http://www.crownbees.com. While there sign up for Bee-Mail to find out when to do what throughout the year.
About Dale Hardware
Combining "next door neighbor" friendliness with hardware know-how gained from nearly 60 years in the business, Dale Hardware of Fremont, California continues to meet the needs of its diverse customers. Whether you're a do-it-yourselfer or a commercial builder, you can always rely on Dale Hardware not only for a wide selection of high-quality products, but for the practical advice you can trust. Come visit our newly expanded store complete with a beautiful nursery and drive-thru indoor lumberyard. Dale Hardware...your hardware store.
Media Contact: Ric Serianni (510) 797-3700 or marketing(at)dale-hardware(dot)com.
About Crown Bees
Crown Bees, founded in 2008 in Woodinville WA, is a leading native bee pollination company engaged in developing and marketing solitary bees and bee-safe products. Serving the retail and commercial markets, its focus is supplementing the declining honey bee with efficient, gentle mason bees and other solitary bees for food pollination. The Company develops and field tests bee-safe products, is a member of the Orchard Bee Association, and advisor to scientific researchers focused on wild bee identification and developing pollination management practices and ethics. This includes ASPIRE, an offshoot of the Specialty Crop Research Initiative (SCRI) sponsored by the USDA. Crown Bees products are sold in the USA, Canada and Europe.
Media contact: Elsie A Olesen, 425-445-1338 or media(at)crownbees(dot)com.