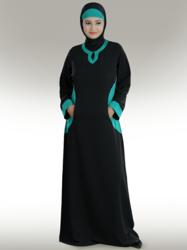 Any Size, Any Length; We Customize for YOU
(PRWEB) February 27, 2013
MyBatua a primary online shop for garments and accessories has recently become a destination shopping place for Islamic fashion clothing. It is providing to all requires of online buyers for Abayas, Jilbabs, Hijabs, Sherwani's and various accessories including brooches and exclusive handbags suitable for all events and marriage ceremony.
The reputation index of http://www.mybatua.com is growing everyday due to its number of products and continuous inflow of new styles and collections. It has become customers' initial option to buy Islamic fashion outfits and designer bags at the right costs. MyBatua have also renewed all of the display of styles over their own variety of Islamic fashion items. Pictures from various sides and zoom feature on product pages permit its buyers to see all of the information before deciding to buy. Buyers of mybatua.com get what they see on the internet.
This has been a continuous effort of MyBatua to present fashion forward and modern models of its products. The new designs are mostly fashion-forward. Buyers of the shop are often returning in search of new designs and styles to add to their wardrobes. The shop provides an exclusive service of customizing its products according to the needs of buyers. This service is provided on Abayas, Jilbabs and Sherwani's which are few among stores primary products. There are numerous types of Islamic garments & handbags that are available here. The size and length can be customized for a little or almost no additional cost. One can select the perfect size, length and style relevant to their style and requirements.
The Web store promises to have something for every person's requirements. These excellent new styles and more are accessible through the MyBatua online store. MyBatua consistently keeps updating its buyers through the Social networking websites like face book, twitter and pinterest.
The staff of designers at http://www.mybatua.com requires additional care in choosing the design, colors and materials for the items as all items are produced in house to make sure and manage customers' high expectations. MyBatua takes pride to assure and provide high quality products at very cost-effective costs. This is evident from great number of coming back customers of the shop.
True to its slogan that MyBatua.com is a one stop store for Islamic fashion outfits providing something for all of its buyers.
Mybatua is the one-stop place on the web for a complete selection of Islamic designs for men and women. Additionally, Mybatua offers a complete variety of accessories just like purses, handbags, clutches, hijabs, scarves, stoles and much more.