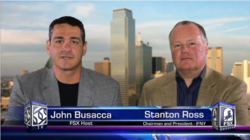 Dallas, Texas (PRWEB) February 27, 2013
During the recent the FSX Investment Conference held in Dallas, Texas, Infinity Energy Resources, Inc. President & CEO, Stan Ross, granted an exclusive interview for InterlinkedTV, an on demand web channel dedicated to entrepreneurs and investors.
Infinity Energy Resources, Inc. is a natural resources exploration and development company with oil and gas concessions covering 1.4 million acres offshore Nicaragua in the Caribbean Sea. The Company's concessions are located adjacent to Noble Energy's 1.8 million-acre offshore concessions, which have been estimated by Noble to potentially contain 2.7 billion barrels of oil. Noble has announced plans to commence drilling in Nicaragua within the next few months.
During this exclusive interview, available only on InterlinkedTV, Ross discussed Infinity Energy Resources, Inc.'s management team. Ross stated that they have been actively preparing an environmental impact study which should be finished by April 2013 and expect to start drilling the first well in 2014.
The complete interview is available only on InterlinkedTV.com.
If you would like to meet CEOs, BDs, and other Investors first hand, get Interlinked with FSX by simply registering for their next event. Some restrictions apply. Must be an Accredited Investor or be registered through FINRA to attend an event.
About Infinity Energy Resources, Inc. and InterlinkedTV
Infinity Energy Resources, Inc. is a natural resources exploration and development company with a very large oil and gas offshore concessions. More information at IFNYoil.com
InterlinkedTV is an internet video production and distribution site dedicated to Entrepreneurs and Investors. We feature education, public and private companies, venture capital news, and investment events. This content is exclusive and cannot be found anywhere else. We give our members and viewers a unique chance to meet the CEOs and executives of high growth companies. For more information go to InterlinkedTV.com & Interlinked.com