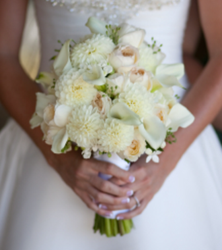 (PRWEB) February 28, 2013
Peachtree Petals, a recognized leading Atlanta florist specializing in premium floral arrangements and wedding floral decor services, announces their wedding consulting services. The wedding consulting services is offered in efforts to accurately meet the wedding floral demands of their clients and increase sales growth. Peachtree Petals pursues to be the best choice for wedding floral services and decor nationwide.
The Peachtree Petals wedding consulting services are found on the "Weddings" page on their website. On the page, clients can select to schedule an appointment on the Peachtree Petals automated wedding consultation scheduling tool. Clients have the ability to schedule phone call or in-person meetings. All available consultation times will are shown as available which they can choose from. Once a time is selected, the client completes a contact form, which includes their name, wedding date, wedding city, best time to call, and any additional comments they would like to provide the wedding consultant. Peachtree Petals has its' very own staffed Atlanta floral wedding consultant to meet their clients' needs.
This year, the florist was recognized as winner of Wedding Wire's Bride's Choice Award. Wedding Wire is one of the fastest growing wedding and event companies nationwide. The prestigious award has affirmed Peachtree Petals as an official recognized leader in high-quality and custom-designed wedding floral arrangements. The company also offers effective customer responsiveness to its' brides and provides the greatest value for every wedding budget. From start to finish, Peachtree Petals is committed to helping our brides have the best wedding experience.
Peachtree Petals is a recognized leader of superior floral arrangements and honored Master Florist throughout the US. From wedding bouquets to wedding decor, Peachtree Petals is able to meet all of your floral needs. Their floral designers have over 50 years of experience and create stunning floral arrangements. Based in Atlanta, Georgia, Peachtree Petals services a growing list of clients, including company floral subscriptions and weekly floral services.