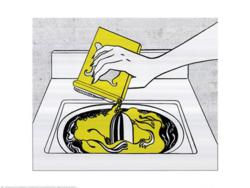 Delray Beach, FL (PRWEB) February 28, 2013
Finding an art print for a laundry room just got easier with the search by room function on BandagedEar.com. The search by room tool allows shoppers to choose the room they are decorating. Suggestions are given for that particular room based on advice some interior design professionals.
Vladimir Safin, co-founder of BandagedEar.com, said, "We have had the search by room function available on BandagedEar.com for a while now. Customers continued to ask that we include laundry room art prints as a choice. Many hours are spent in the laundry room, so why not make it beautiful?"
There are suggestions for laundry room art prints for almost every taste. Art that features quotes is a popular choice. Some of the artists recommended for laundry rooms include: T.C. Chiu, Stephanie Marrott and Roy Lichtenstein.
BandagedEar.com recommends framed art prints for the laundry room. The website not only offers framing suggestions, but also offers to frame the print at a fraction of the price of local framers. The frames are constructed in the United States using high-quality materials, which meet or exceed the quality of local framers.
About BandagedEar
BandagedEar is an extensive online wall art gallery and community site where art lovers can shop from among thousands of carefully selected art prints and posters. In addition to high-quality art prints, BandagedEar.com offers free tools to help customers discover new art and artists. A custom frame shop allows customers to choose a high-quality custom frame, which typically costs less than local frame shops. Choose from among millions of different configurations by specifying the frame, matting, cropping and glazing. All purchases are backed by a 100% satisfaction guarantee. Please visit http://www.bandagedear.com for more information.