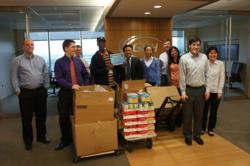 Houston, Texas (PRWEB) February 28, 2013
GBH announced its continued success in its charitable activities.
David Grossman, Shareholder, stated "For the 2nd year, GBH participated in Souper Bowl for Caring benefitting the food pantry at West Houston Assistance Ministries ("WHAM"). We helped WHAM stock their pantry shelves by adding 1291 pounds of food. That is enough food to help the pantry for about a week. At GBH, we are focused on not only providing quality service to our clients, but also giving back to members of our community that are not as fortunate."
For information on the food pantry at WHAM, see their website at http://whamministries.org/wordpress/services/food-pantry/
GBH CPAs, PC (http://www.gbhcpas.com) is an accounting firm specializing in providing audit services for small to medium-sized public companies under SEC rules and Canadian rules and in serving closely-held, private clients. GBH is registered with the Public Company Accounting Oversight Board ("PCAOB") and the Canadian Public Accountability Board ("CPAB") and is a member of the AICPA Center for Audit Quality and the Texas Society of Certified Public Accountants. GBH was selected by INSIDE Public Accounting to the Best of the Best Firms list for 2012. GBH was selected by the Houston Business Journal as one of Houston's FAST 100 Growing Companies for 2012. GBH was also selected by the Houston Business Journal as one of Houston's Best Places to Work for 2012, 2010 and 2008 and selected by Accounting Today as one of the Best Accounting Firms to Work for in 2012, 2011, 2010 and 2009.
GBH is a member of Kreston International (http://www.kreston.com), a global network of accounting firms each of which is a separate independent legal entity and as such has no liability for the acts or omissions of any other member firm.