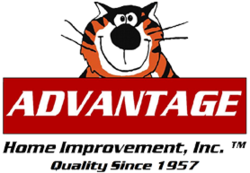 Now that we are in the midst of an aggressive seller's market, we have begun active preparations to handle the big influx in business.
Murfreesboro, Tenn. (PRWEB) February 27, 2013
Real estate professionals in Nashville claim that the area is in the early stages of a seller's market. An article in the Nashville Business Journal stated that 2012 saw the best home sales numbers in five years; those numbers continued to look positive on into January. In the face of growing demand, Middle Tennessee home renovation experts, Advantage Home Improvement, are making a big push to build upon their reputation as reliable home improvement experts.
"This time of the year normally sees a big increase in home owners looking to make special additions to their property," stated Advantage Home Improvement Principal, Joseph Orange. "Around the office we like to refer to this time of year as the 'spring rush.' Now that we are in the midst of an aggressive seller's market, we have begun active preparations to handle the big influx in business."
To meet the higher demand for home renovation and remodeling services, Advantage Home Improvement (AHI) will review each element and service line of the company. By doing so AHI hopes to quickly address any areas that might need improvement or could use extra support handling increased workloads.
"This is usually a pretty busy time of the year for us," added Orange. "We are excited to play a role in the continued success of the real estate market here in Middle Tennessee, especially after the recession."
AHI also noted that aside from the seller's market, spring weather tends to increase business this time of the year. The Middle Tennessee region can expect several rounds of storms during the spring months. These storms often produce hail, which can wreak havoc on roofs, decks, gutters and windows. Advantage Home Improvement's range of services also includes repairing exterior damage to residential structures, as well as remodeling for a home's interior spaces.
About Advantage Home Improvement
A leading home improvement and remodeling contractor, Advantage Home Improvement offers professional grade services for Nashville, Murfreesboro, Franklin, and the surrounding areas. From commercial and residential roofing to kitchen and bath remodeling, Advantage Home Improvement is a proven contractor that can handle a wide range of projects. All of their work is guaranteed by an industry leading workmanship warranty. Founded in 1957, for more than 50 years AHI has built a solid reputation for producing superior workmanship, using quality materials, and providing world class customer service.