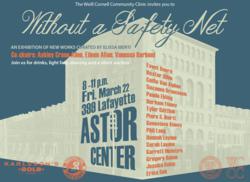 The event's title is inspired by WCCC patients, whose stories of determination and resilience in the face of being uninsured continue to move the medical students who volunteer to work in the clinic.
New York, NY (PRWEB) February 28, 2013
The Weill Cornell Community Clinic (WCCC) will host its second annual "Without A Safety Net" fundraiser on Friday, March 22, 2013 from 8:00pm to 11:00pm at the Astor Center in the historic De Vinne Press building at 399 Lafayette St. in New York City. Proceeds from the event will support the Weill Cornell medical student-run clinic that provides free or sharply reduced primary healthcare to the uninsured of New York City.
The WCCC operates one night per week on the Upper East Side of Manhattan, serving approximately 300 uninsured patients annually. The WCCC is run entirely by medical students at the Weill Cornell Medical College, with medical supervision by attending faculty and physicians.
Funds raised at this year's event will directly pay for care of WCCC patients as well as an expansion of the clinic's operations to two nights per week. Without A Safety Net's proceeds now account for the majority of the WCCC's yearly budget Last year's inaugural Without A Safety Net fundraiser was a sold-out event raising over $40,000 for the WCCC thanks to more than 250 donors in attendance and the silent auction of 16 pieces of art.
The event's title is inspired by WCCC patients, whose stories of determination and resilience in the face of being uninsured continue to move the medical students who volunteer to work in the clinic.
The WCCC strives to provide its patients with medical care equivalent to what they would receive if they had health insurance. This includes preventive care, specialty referrals, and some minor procedures at no cost to patients. Patients also receive prescriptions, and access to psychotherapy and other essential services at a greatly reduced rate.
Without A Safety Net draws a largely young professional crowd interested in giving back to the community and to healthcare throughout New York City. The March 22 event will feature music, dancing, light fare, and a silent auction of works from emerging New York City artists. This year's event is sponsored with the generous support of the Brooklyn Brewery, Karlsson's Gold Vodka, and Astor Center wines.
To learn more or purchase tickets for the Without a Safety Net fundraising event, please visit: http://weill.cornell.edu/wccc/safetynet/
About Weill Cornell Medical College
Weill Cornell Medical College, Cornell University's medical school located in New York City, is committed to excellence in research, teaching, patient care and the advancement of the art and science of medicine, locally, nationally and globally. Physicians and scientists of Weill Cornell Medical College are engaged in cutting-edge research from bench to bedside, aimed at unlocking mysteries of the human body in health and sickness and toward developing new treatments and prevention strategies. In its commitment to global health and education, Weill Cornell has a strong presence in places such as Qatar, Tanzania, Haiti, Brazil, Austria and Turkey. Through the historic Weill Cornell Medical College in Qatar, the Medical College is the first in the U.S. to offer its M.D. degree overseas. Weill Cornell is the birthplace of many medical advances -- including the development of the Pap test for cervical cancer, the synthesis of penicillin, the first successful embryo-biopsy pregnancy and birth in the U.S., the first clinical trial of gene therapy for Parkinson's disease, and most recently, the world's first successful use of deep brain stimulation to treat a minimally conscious brain-injured patient. Weill Cornell Medical College is affiliated with NewYork-Presbyterian Hospital, where its faculty provides comprehensive patient care at NewYork-Presbyterian Hospital/Weill Cornell Medical Center. The Medical College is also affiliated with the Methodist Hospital in Houston. For more information, visit weill.cornell.edu.