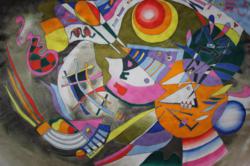 I am glad that we are finally launching a silk scarves line inspired by Kandinsky. Silk scarves are our most sought-after product along with silk ties.
Burnaby, British Columbia, Canada (PRWEB) February 27, 2013
The pioneer of abstract art, Wassily Kandinsky has served as an inspiration to various artists and designers from every aspect of the creative world. WomenClothingToday.com too has taken the initiative to introduce the work of Kandinsky with a touch of innovation on exquisite silk scarves.
Best known for instrumental artwork depicting his interpretation and fascination with the expressive power of linear forms, Kandinsky's work has always been a coveted possession for abstract art lovers. Combining this abstract genius on silk, tinted with a touch of the brand's main artist Svetlana Rasskazova's creativity makes these silk scarves perfect gift items for every art enthusiast.
"I have always been enraptured by observing Kandinsky's works, and longed to recreate my individual interpretation of them. Designing these silk scarves inspired by his work while maintaining my original creative streak allowed me to experiment and recreate. I have chosen an array of colors that complement and contrast with his abstract motifs yet provide a unique overall look," said Svetlana.
Speaking on the occasion Business Manager at WomenClothingToday.com, Anda Tudor said "Some of our former customers had asked us to do an abstract painting-inspired silk scarf, and as an abstract art lover myself, I'm glad that we are finally launching a line on the work of Kandinsky. Silk scarves are our most sought-after product along with silk ties, and hence we continuously strive to top our last designs and exceed the expectations of our customers."
Aside from the fact that all silk scarves from WomensClothingToday.com are manufactured with the highest quality of authentic silk, these unique pieces of art are exclusively created using the ancient batik technique.
Kandinsky inspired silk scarves makes for an impressive gift item for anyone who likes statement accessories. Luxuriate in the opulent feel of these one-of-a-kind hand-painted silk scarves that are available only at WomenClothingToday.com.
If you are planning to present this to someone as a gift, you can opt for their complementary gift wrapping service.
About WomenClothingToday.com
WomenClothingToday.com is a family business based in British Columbia, Canada. They employ a talented team of artists and designers, who craft each silk garment they offer by hand. No two silk products from the site are identical, even though the patterns and colors are nearly the same. WomenClothingToday.com offers a 100 percent money-back guarantee on items returned within 30 days.
Contact:
Anda Tudor, Business Manager
anda(at)womenclothingtoday(dot)com
1-800-275-3165
http://www.womenclothingtoday.com