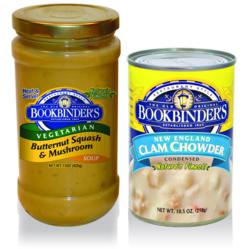 "There is a strong demand for great tasting, healthy food that can be easily prepared, and a growing need for individuals with gluten sensitivity or Celiac disease." Sean O'Neil, Bookbinder's Chief Soup Officer
Philadelphia, PA (PRWEB) February 28, 2013
Bookbinder's Chowder heads to Canada. Bookbinder Specialties, a PA Preferred Company, will introduce a new gluten-free and all natural, New England Clam Chowder at the upcoming Canadian Restaurant and Foodservice Association (CRFA) show in Toronto on March 3-5.
"We welcome the opportunity to expand our market coverage," explained Sean O'Neil, Bookbinder Specialties' Chief Soup Officer. "There is a strong demand for great tasting, healthy food that can be easily prepared, and a growing need for individuals with gluten sensitivity or Celiac disease. In 2011, we adapted the recipe of one of our traditional seafood soups to be gluten-free for the retail market, and we are finally extending this product for use in restaurants and food service applications." The product is condensed and packaged in a 51 oz can.
Bookbinder Specialties will be showcasing two food service products, their all natural and gluten-free New England Clam Chowder and their legendary Snapper (turtle) Soup. Their award winning line of all natural and gluten free, ready-to-serve vegetable soups, in 15 oz glass jars will also be on display.
The Media, Pennsylvania-based Bookbinder Specialties Company, sell soups and seasonings based on favorite recipes from the Old Original Bookbinder's restaurant, established in 1865 in Philadelphia's historic Old City. Bookbinder's product line features fresh seafood from the eastern U.S., and includes bisques (lobster, crab, shrimp, and seafood), snapper soup, clam chowders, oyster stew, clam sauces, clam juice, breadcrumbs, and seasonings. Distribution is throughout the U.S., with concentration in the Northeast. A portion of company profits are donated to help feed the less fortunate in the Philadelphia area.
The CRFA Show is the largest Restaurant and Food Service supply exhibition in Canada. More than 700 exhibitors participate each year. Over 12,000 industry professionals — including chain executives, independent owner/operators, chefs, buying managers and purchasing agents — attend to discover the latest trends, innovative products and inspired ideas. This trend-setting trade show features Canada's only full-service marketplace — a perfect opportunity to network with customers.