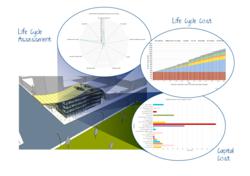 A major advantage of these tools is the ability to get rapid feedback on design options so you can assess and reassess right from concept through to detailed design
Glasgow, UK (PRWEB UK) 27 February 2013
A unique new toolset from IES will allow construction professionals to optimise the sustainability of their building design by analysing the embodied impact and life cycle cost of material/product choices, and operational energy efficiency. It is being launched on the IES stand at Ecobuild (N429) and is also featured in the MBEKTN Innovation Zone (N630).
The integrated Life Cycle Assessment (LCA), Life Cycle Cost (LCC) and Capital Cost (CC) tools have been developed as a direct result of a three year Technology Strategy Board funded project called IMPACT which involved the BRE, IES, Willmott Dixon and AEC3. The project created the IMPACT integrated LCC and LCA methodology and database for software developers to incorporate into their tools – IES is the first to deliver IMPACT Compliant tools.
The IMPACT methodology was developed with integration into BREEAM in mind. Two Exemplar Credits in the latest BREEAM 2011 update are available to projects using IMPACT LCA tools and the IMPACT LCC tool can be used to gain the MAN05 Life Cycle costing credit. Further integration into the core materials credits is planned in the coming years as whole building benchmarking data is gathered through the exemplar credits.
The tools use a new building level methodology and data for both generic and certified products/materials, developed by BRE and Willmott Dixon. A library of customisable cost templates is available for many different building types. Environmental outputs are delivered in the form of BRE Ecopoints or as thirteen separate impact indicators, with a choice of flexible life cycle stages and study periods.
Uniquely the tools integrate directly with the IESVE dynamic simulation suite which delivers material and quantity information and operational energy performance details directly from its central 3D model into the analysis. Assessment of other performance metrics such as daylight, Part L and carbon can also be integrated. The suite is also BIM interoperable with gbXML and IFC import connections.
IES has chosen to give away the software tools (CostPlan, LifeCycle & EnviroImpact) for free in the UK so that all a user needs to purchase is a subscription to the relevant Willmott Dixon & BRE datasets. Prices start from only £50 per month with a 90% discount being offered to academic institutions. The datasets will be regularly updated.
Two day Face-to-face Training Workshops are being developed to be held in both London & Glasgow starting in May 2013. Developed in conjunction with the BRE they will cover IMPACT theory and methodology, IESVE software and project based training. Email training(at)iesve(dot)com to get further details and to book your place.
"A major advantage of these tools is the ability to get rapid feedback on design options so you can assess and reassess right from concept through to detailed design, comments Craig Wheatley, Director, IES. "They will facilitate the improvement in design and decision making for both new design and retrofit projects."
Daniel Doran, Senior Consultant, BRE says "following three years of intense development the release of the first IMPACT Compliant tools by IES represents a key milestone in the IMPACT project that will revolutionise embodied impact assessment and life cycle costing."