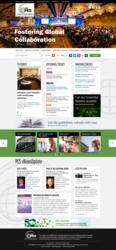 "The keys to building effective websites are focusing on meeting user needs, responding to their behavior and simplifying their experience." – Britton Shinn, Senior Digital Strategist, D2 Creative
Somerset , NJ (PRWEB) February 27, 2013
D2 Creative launches a new website for the Institute of Electrical and Electronics Engineers' (IEEE) Power and Energy Society (PES) that streamlines the user experience and reflects the progressive character of the leader in the electric power and energy engineering field.
"As a global technical association, it was critical for us to have a modern website that was a resource for our current members, and would also serve to attract the growing number of young engineers entering the energy field." – Dr. Henry Louie, IEEE PES Vice President of Membership & Image
To begin the redesign process, D2 Creative gathered user feedback from PES staff and society members regarding the challenges the existing website posed to users. Next, the website analytics data was examined to better understand actual user behavior. Finally D2 audited the site content and identified opportunities to consolidate, enhance or eliminate content. Together, these findings form the basis of a website that not only improves usability but communicates the PES brand more clearly.
"The keys to building effective websites are focusing on meeting user needs, responding to their behavior and simplifying their experience." – Britton Shinn, Senior Digital Strategist, D2 Creative
The site was reorganized so that the user experience is optimized based on users' primary needs: each page features a graphic, promotional space for resources identified as most popular. Links to specific PES initiatives are prominently displayed, and an interactive space for PES news and featured publications items allows visitors to customize their experience. Throughout the site large imagery illustrates PES's brand objectives and goals, emphasizing the society's considerable impact on individuals, the industry and the world. Persistent social media options further encourage the organization's 30,000 members to engage and share ideas.
IEEE is the world's largest professional association for the advancement of technology and a long-standing client to the NJ-based digital agency. IEEE PES helps to map the future direction of the industry through publications, conferences, and a variety of educational and networking opportunities. For more information on the society, or to see a complete list of PES-related conferences and publications, visit http://www.ieee-pes.org/.
D2 Creative is an interactive agency whose mission is to help organizations increase reach, influence, and effectiveness through creative, digital solutions.
# # #
If you would like more information about this topic or D2 Creative in general, please contact Carrie Plantamura at 732-507-7441 or email at info(at)D2creative(dot)com.