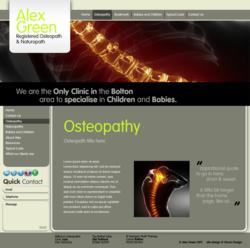 This seems to be part of an unnecessary trend to give fairly powerful medicines to infants. While it may at first appear that the issue has been remedied, medicines often mask the side-effects, sometimes producing more, without actually finding a solution
Bolton, Lancashire (PRWEB) February 28, 2013
Osteopath and Naturopath Alex Green has increased trading hours at his private clinic in Bolton, offering cranial osteopathy in Manchester and the surrounding areas.
Established for thirteen years, Alex Green operates from St. George's Multi-Therapy Centre offering a bespoke service tailored around the individual's issues and state of health, by providing an effective and affordable range of treatments designed to provide non-invasive solutions to such common problems as back ache, headaches and digestion issues.
"In the last few years, I have seen a sharp increase in cases of babies and small children suffering from a wide range of different issues; reflux, poor feeding, excessive crying, insomnia, painful wind and sickness to name but a few," says Alex Green, a practitioner of cranial osteopathy in Manchester.
"This seems to be part of an unnecessary trend to give fairly powerful medicines to infants. While it may at first appear that the issue has been remedied, medicines often mask the side-effects, sometimes producing more, without actually finding a solution to the issue."
Osteopathy is a well-established and recognised healthcare system which lays its main emphasis on the structural and functional integrity of the body. The aim of practitioners is to facilitate normal function within the body and minimise the risk of any problems re-occurring in the future.
"In many respects, there should be no differentiation between 'cranial osteopathy' and 'standard osteopathy', but specialising in the techniques utilised in cranial osteopathy requires further training and practical experience," explains Alex Green, a specialist in cranial osteopathy in Manchester.
"The highest level of training available for this discipline is achieved at the Sutherland Cranial College, where I completed the post-graduate programme a number of years ago, which has qualified me to offer the effective and affordable services that I practice today."
Cranial osteopathy practitioners spend a minimum of four years training in medical sciences, so they can accurately diagnose and treat their clients using physical touch and manual therapy which allows the body to release the stress and pressure that is often the cause of the original issue.
"Adult customers come to me most of the time for musculoskeletal injuries, lower back and neck pain," explains Bolton osteopath Alex Green. "33% of people in the UK suffer back pain at any one time, but the treatment I provide is completely non-invasive,"
Alex Green is also an experienced Naturopath.
"The idea of treating ailments without prescription medications is slowly catching on," he explains.
"Many people are realising now that there's more than one way to mend your body, and it does not necessarily involve numbing the discomfort and simply hoping the issue will subside with time. The pharmaceutical direction of isolating components of herbs to create more potent medicines has in turn made them into a toxic creation. The current resurgence in non-pharmacological treatments is due to the recognition of both the accomplishments and the limitations of both the current medical system and the efficacy of the Naturopathic approach."
Naturopathic medicine can incorporate many therapeutic modalities including herbal medicines, homeopathy, nutrition, hydrotherapy, food, exercise therapy, physical therapy, lifestyle changes, counselling and manipulation of the bony and soft tissues. Alex will provide nutritional dietary advice, hydrotherapy and lifestyle guidance and if he thinks it necessary, will refer people on to a herbalist or homeopath.
"The increase in our opening hours is partially due to customer demand, but the increasing volume of customers has been the driving force," explains Bolton osteopath Alex Green.
"I am now taking appointments from 8am to 6pm by arrangement, allowing for a greater availability to fit around my customers' busy lifestyles."
"The cost of what we offer is lower than most (if not all) of the competitors, with a bespoke holistic service tailored to each individual client. I believe I provide the best service in the North West region," says cranial osteopathy practitioner Alex Green, who is also offering a £5 discount to first time customers who visit his website to print out their voucher beforehand.
Alex's website has recently been re-designed and will go live very soon.
"If you have any questions about either your or your child's health or wellbeing, I encourage you to get in contact either via my website or by making an appointment," says Alex Green.
"You may not have had any experience in Naturopathy or cranial osteopathy before, but I am always available to discuss any concerns and the longer clinic hours I offer should allow you to schedule both your health needs and your busy lifestyle effortlessly."
Press release by Manchester SEO specialists Vizcom