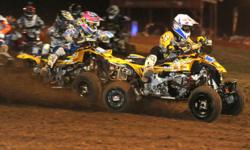 "We couldn't be more excited to work with Can-Am's Factory teams and riders." – Ryan Paine, vice-president of Lazer Star Lights
Paso Robles, CA (PRWEB) February 28, 2013
Lazer Star Lights – a global manufacturer for off-road LED light bars and performance lighting accessories – today announced a new sponsorship agreement with Can-Am Factory ATV Race Teams for the 2013 season.
"We couldn't be more excited to work with Can-Am's Factory teams and riders," says Ryan Paine, vice-president of Lazer Star Lights, "It's a testament to both the quality of our lights, and Can-Am's trust in our products to help win championships."
Can-Am Factory Teams compete across multiple series and races including, AMA ATV Motocross Championship, AMSOIL GNCC, WORCS, SCORE, and Best In The Desert.
Lazer Star Lights will equip the Factory Can-Am Teams with a variety of off road LED light bars for their race and support vehicles. Lazer Star will have presence on racer jersey's, in the pits on Can-Am Factory trailers, and on banner displays.
This year's AMA ATV Motocross Championship will see 2012 Pro Champion Josh Creamer on his Factory Can-Am/BCS Performance DS450 contending to hold his title along with Factory team mate Nick Gennusa.
2013 AMSOIL Grand National Cross Country (GNCC) series, Can-Am Factory/JB Off Road riders Jarrod McClure, Kyle Chaney, multi ATV champion Tim Farr, and new comer Sam Williams will be racing the 4×4 open class aboard an Outlander 800R.
Best in the Desert and SCORE find Factory Can-Am / Murray Motorsports brothers Derek and Jason Murray, competing on Maverick 1000R X rs machines, Factory Can-AM / Motoworks Josh Fredrick is at it again, going for another win at SCORE Baja series on his Factory Quad and out at WORCS on both the Factory SxS and Pro Quad in 2013.
We'll also see the Can-AM Factory SxS join Team Del Amo Motorsports and Pablo Veglia for select desert series events in the SxS Pro Production class. Long time Lazer Star Lights sponsored and X-Team factory Can-Am rider Bryan Buckhannon will return to the GNCC 4×4 open glass to defend his fifth championship title aboard his Outlander 800R XT.
"We are eager to assist in everything we can with Can-Am's factory teams. We've had a lot of great feedback from Bryan (Buckhannon) racing with our lights in the GNCC series," says V.P. Paine. "We're are looking forward to hearing feedback from the other factory Can-Am teams, specifically how our lights perform in the other series and their respective conditions. It's a top tier group of teams and racers to be working with. We're honored."
About Lazer Star Lights
The company is an innovator in the automotive and power sports aftermarket off-road lighting industry. Since its founding in 1993, the company has set the pace of future lighting technology, trends and styling. The company's latest cutting-edge innovation is the LX LED light bar line. It delivers the brightest, most efficient technology available. They also offer an affordable HID light to deliver enough power to light up the night at a price that can't be beat. For more information, please visit our website.
Company contact:
Ryan Paine, Vice-President, Lazer Star Lights, 2734 Danley Court, Paso Robles, CA 93446, (805) 226-8200.
Press release by San Luis Obispo web marketing firm Access Publishing, 806 9th Street #2D, Paso Robles, CA 93446, (805) 226-9890.