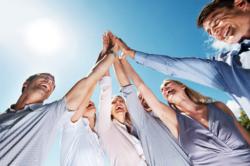 We're constantly rolling out new features designed to help our coaches, consultants and mentors make the most of their businesses
Burnaby, British Columbia, Canada (PRWEB) February 27, 2013
FreelanceCoach.com reports another first within the coaching and consulting industry. The site is now the first network allowing coaches, consultants and mentors to purchase exclusive leads. Only four professionals are allowed to respond to each lead, so competition for the clients is limited. The leads are also removed promptly after the client finds a professional.
"FreelanceCoach.com has grown dramatically in just a matter of months," public relations manager Anda Tudor said. "Our rapid growth has enabled us to see exactly what coaches, consultants and mentors need in order to succeed, so that's why we decided to start offering these exclusive leads. The more information we can provide to them, the better they will be able to help our clients."
The network also increased the quality of its exclusive leads by adding some mandatory fields for the clients, including city, state and phone number. This enables the coaches, consultants or mentors who purchase the leads to contact the clients directly. Also the leads are generated according to professionals' location, making it easier for professionals to find clients in their own area.
"We're constantly rolling out new features designed to help our coaches, consultants and mentors make the most of their businesses," Tudor said. "We have made it our mission to become the destination for coaches, consultants, mentors and clients to connect, so we've also tweaked the site in other ways to improve communication between professionals and their prospective clients."
For example, the site has increased the amount of room clients have to explain their specific challenges when submitting their information so that coaches, consultants and mentors will have a better idea about what they need help with before speaking with them. In addition, FreelanceCoach.com validates all exclusive leads by verifying the email address the client used to create their listing.
There is no monthly fee for joining FreelanceCoach.com, so coaches, consultants and mentors interested in purchasing exclusive leads buy only the leads they want. The price of the exclusive leads varies according to the professional category. To get started, professionals just fill out a short form at FreelanceCoach.com.
About Freelance Coach.com
FreelanceCoach.com is a worldwide market place for online coaching, consulting, advisory and mentoring services. The site is dedicated to helping clients all over the world be happier, healthier and more successful individuals as they gain better control over their lives.
Contact:
Anda Tudor, Public Relations Manager
anda(at)freelancecoach(dot)com
http://www.freelancecoach.com