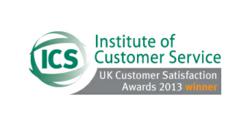 London (PRWEB UK) 27 February 2013
Last night, (26 February 2013) 13 of the UK's leading businesses were celebrated for their achievements in customer service at the third annual UK Customer Satisfaction Awards, organised by the Institute of Customer Service.
More than 500 guests gathered during a celebratory dinner at the Lancaster London Hotel on 26 February 2013 to await the winners announcement.
The Awards recognise and reward organisations that are delivering excellent and innovative service to meet their customers' needs and enable them to thrive.
Jo Causon chief executive Institute of Customer Service said; "The Awards have become an integral part of the business calendar. It is important to showcase and celebrate those who have shown that their organisation is committed to their customers at the very highest level."
She added: "All of the UK Customer Satisfaction Award winners are differentiating through service, placing customers at the heart of their business strategy and securing a bright future for their employees by doing so."
The Institute of Customer Service UK Customer Satisfaction Awards took place at the Lancaster London Hotel on 26 February 2013 following the Annual Conference.
During the evening 13 awards were presented in the following categories:
Barclays Customer Focus Award – SME - iNet Telecoms (Voipfone)
Objective HR Employee Engagement Strategy of the Year - UKFast
Quality Service Provider of the Year - Denplan
The Leadership Factor Best Customer Satisfaction Strategy Award - Boots UK
NICE Best Application of Technology Award - Osborne
Sitel Customer Commitment Award - Simplyhealth
Customer Feedback Strategy Award - Costa Coffee
Marks and Spencer Customer Satisfaction Innovation of the Year - Asda
ABa Quality Monitoring Customer Focus Award – Large Enterprise - Boots UK
Best Return on Customer Service Investment Award - LV=
The Underfloor Heating Store Customer Service Leadership Award - David Jewell, business development director, Bottomline Technologies
UKCSI Award Best in UK - ASOS
UKCSI Award Most Improved - Pontins
A full list of the finalists in all categories can be found at http://www.ukcustomersatisfactionawards.co.uk
About the Institute of Customer Service
The Institute of Customer Service is the professional body for customer service delivering tangible benefit to organisations and individuals so that our customers can improve their customers' experience and their own business performance.
The Institute is a membership body with a community of over 400 organisational members – from the private, public and third sectors – and over 3,000 individual memberships.
For more information about the Institute of Customer Service go to: http://www.instituteofcustomerservice.com
About the UK Customer Satisfaction Awards
Entry to the UK Customer Satisfaction Awards is free and there are eleven award categories. Award submissions are scored against pre-set criteria by a panel of industry experts.
Two UKCSI Awards are presented to organisations who perform well in the Institute's UK Customer Satisfaction Index.
The UK Customer Satisfaction Index (UKCSI) is the national measure of customer satisfaction, published by the Institute of Customer Service. The Institute launched the UKCSI in 2007 and publishes it every 6 months.
The UKCSI is based on 26,000 consumer responses, across 13 business sectors (Automotive; Finance (banks and building societies); Finance (insurance); Leisure; Public sector (local); Public sector (national); Retail (food); Retail (non-food); Services; Telecommunications; Tourism; Transport; Utilities.
UKCSI responses are gathered from a geographically and demographically representative sample of UK adults. Data is collected from approximately 160 private sector organisations with a market share sizeable enough to register in the survey, as well as key organisations in local and national public sectors.
Customers are asked to rate organisations on key attributes of customer service including professionalism, quality & efficiency, ease of doing business, problem-solving, timeliness, and the way complaints are handled.
Awards finalists are assessed by an independent group of judges selected for their business knowledge and acumen.
The six highest scoring entrants in each award category are invited along to the awards evening.
For more information about the UK Customer Satisfaction Awards or the Institute of Customer Service contact Brian Weston, director of marketing and communications – brian.weston(at)icsmail(dot)co(dot)uk. Tel: 01206 216180 or 07585 603446