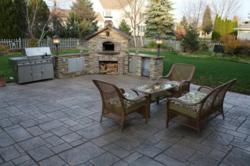 Greenville, WI (PRWEB) February 28, 2013
Local decorative concrete contractor, McHugh's Decorative Concrete, is now providing design and construction services for outdoor living areas. These unique areas give homeowners the opportunity to expand their living area, increase the value of their home, and incorporate design elements like decorative concrete patios, walkways, pool decks, outdoor fireplaces, outdoor kitchens and more. Businesses also benefit from decorative concrete outdoor areas, creating inviting spaces for clients and patrons.
Decorative concrete is the building material of choice for outdoor living areas because it's extremely durable, versatile and easy to maintain. McHugh's Decorative Concrete specializes in creating custom decorative concrete in Greenville and all of the surrounding Fox Valley Wisconsin areas. Their stamped concrete work often mimics the appearance of expensive custom stone, tile, brick and even wood, without the high cost or intensive maintenance.
Decorative concrete can be custom colored, textured, stamped, stenciled and more to create virtually any look. The concrete artisans at McHugh's Decorative Concrete are excited by the recent rise in popularity of outdoor living areas, and look forward to working with more Wisconsin area residents and business owners to upgrade and enhance both interior and exterior surfaces with their custom designed decorative concrete installations.
Since 1993, family owned and operated McHugh's Decorative Concrete has been providing customized decorative concrete in Appleton, Greenville, Neenah, Menasha and the greater Fox Valley of Wisconsin. McHugh's Decorative Concrete is also proud to maintain memberships with both the Fox Valley Home Builders Association and the Wisconsin Home Builders Association.