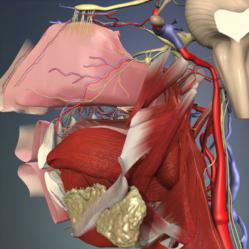 These new learning activities provide students with a truly immersive way to learn all elements of head and neck anatomy, and understand how they interact.
London, UK (PRWEB) February 28, 2013
Primal Pictures has launched a new version of 3D Anatomy for Speech Language Pathology that includes interactive activities to help students better understand head and neck anatomy. Activities include interactive quizzes and 3D image-based review questions for each of the 12 sections of the learning tool. It is the latest product from the publishers of the most complete, medically accurate, interactive 3D model of the human body.
"Today's students expect and appreciate the vivid images and learning interactivity that 3D Anatomy for Speech Language Pathology provides," said co-author Torry Loucks, PhD, who teaches Neuroanatomy at University of Illinois at Champaign Urbana. "Along with the core product, the new activities provide students with a truly immersive way to learn the head and neck anatomy that is so important in their coming career."
3D Anatomy for Speech Language Pathology (3D SLP) is a valuable learning tool used by speech and language students, teachers and practitioners. The product includes hundreds of 3D anatomy views of head and neck anatomy; as well as content on anatomical language and systems of the human body, detailed anatomy of the head and neck including facial muscles, tongue, oral and nasal cavities, larynx, pharynx, ear and nerves. 3D SLP also includes 3D animations of movements of the face (such as elevation/depression of the corners of the mouth and opening/closing of the lips), movements of the larynx/pharynx, the TMJ, and respiration, as well as 2D animations of the mechanisms of swallowing, articulation and voice, voice production and the actions of the larynx.
The study activities are linked to a subset of 3D images and animations and include integrated, clickable structure questions focused on the skull, palate, tongue, pharynx, larynx, and respiratory system, along with the muscles of mastication and facial expression, articulation, sound production, brain/cranial nerves, and TMJ. Each quiz is comprised of 5 questions with a total of 60 quiz questions in the product. Quiz questions are true /false or multiple choice, and some are supported by 3D imaging or animation.
Primal Pictures developed its 3D imagery of the head and neck using the female Visible Human data from the U.S. National Library of Medicine Visible Human Project, which includes axial photographs of the human body taken every .33 millimetres.
About Primal Pictures
Primal Pictures offers the most complete, detailed and medically-accurate 3D model of human anatomy for students, educators and health care practitioners. Primal Pictures' 3D anatomy software is widely adopted in education and it is used for patient, practitioner and student education in over 20 countries. In 2012, over half a million students learned anatomy using Primal software. Primal has been awarded the the British Medical Association's prize for the best digital resource, and the Queen's Award for Enterprise: Innovation 2012, the highest official award that a British business can achieve.