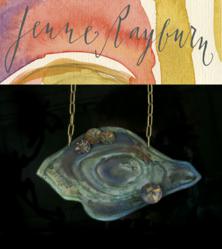 Designs take inspiration from nature, for an unassuming yet refined style.
Boston, MA (PRWEB) February 27, 2013
Jenne Rayburn Handcrafted Jewelry and Wearable Art, a Boston based designer, announces her participation as a jewelry vender in the 2013 SoWa Open Market season with six dates from June to October. The SoWa Open Market is held Sundays from May through October, 10 a.m.–4 p.m., at 460 Harrison Avenue. One of Boston's hippest neighborhoods, The South End has been touted as the best outdoor shopping in Boston. At SoWa Open Market you can buy top-notch items from local artisans, making everything from couture fashion and leather accessories to jewelry, glass, and custom framed art.
You will find Jenne Rayburn at the Sowa open air market on the following Sunday dates: June 2, 2013, June 23, 2013, July 14, 2013, August 18, 2013, September 22, 2013 and October 27, 2013.
Jenne Rayburn will be introducing new pieces from her Ark and Ossis Collections. "I've been sketching and creating new unique jewelry designs based on folklore and mythology, and am really pleased with how they have come together," says Jenne Rayburn.
With Ark, Jenne has developed a line of jewelry based on timeless silhouettes that tell eternal stories of virtue and compassion, love and loss, progress and nostalgia. These inspirational stories of hope and strength tie us to a greater universal purpose and remind us that every person is uniquely powerful.
Ossis jewelry designs take inspiration from nature, incorporating hammering and etching with rough-cut gemstones and raw materials for an unassuming yet refined style. Jenne's materials are carefully chosen to ensure that designs are not only exquisitely beautiful, but also wearable and enduring. The resulting unique jewelry designs are a playful juxtaposition of contemporary and vintage.
SoWa Open Market is an open-air crafts and art market, in the cultural district of Boston located South of Washington Street, showcasing handmade goods by talented small business owners from all over New England and beyond. Venders pitch their tents in the parking lot between Harrison Avenue and Albany Street. Several food trucks also serve the market, and a separate farmers' market sells seasonal produce. The SoWa Vintage market is next door where a carefully curated selection of antiques and collectibles are available. Each week offers shoppers something different and unique including original art of all mediums, gourmet food trucks, indie designer clothing and accessories, ceramics, glass, photography, jewelry, handbags, house wares, baked goods, local farmer's produce – you won't want to miss it!
SoWa Vintage and Open Markets are at 460 Harrison Ave., Boston, 800-403-8305 Sundays, 10 a.m.–4 p.m., sowaopenmarket.com, sowavintagemarket.com
Visit Jenne Rayburn's collections: http://www.jennerayburn.com
Visit Jenne Rayburn on Facebook: http://www.facebook.com/Jenne.Rayburn
About: Jenne Rayburn is a Boston-based jewelry/textile artist who also studied interior design and architecture, and her work explores the convergence of architecture, design, technique and identity. Jenne is known for her designs combining vintage textiles, findings and components, with contemporary textile design. A graduate of the University of Washington where she studied metalsmithing and fiber arts, and of the University of Massachusetts, Amherst with a MS in Design, Jenne has been designing jewelry and accessories for over 20 years. Perpetual curiosity and a passion for experimentation resulted in her first jewelry collection made from etched copper and brilliantly colored enamel. Since then, Jenne has created unique collections of jewelry and fashion accessories that combine careful workmanship with unique materials and designs. It is her hope that the wearers of her pieces will find joy in a delightful artistic statement, and also something that enhances their individuality and confidence. Her work is carried in local galleries and online. Please visit http://www.jennerayburn.com for Jenne Rayburn's online flagship store. For wholesale information, please visit jennerayburn.com/wholesale.com.
###