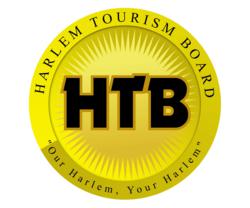 "Our objective is to create partnerships with Harlem businesses to promote one of the most famous urban communities in the world," said William "Tony" Rogers, president, Harlem Tourism Board.
New York, NY (PRWEB) February 28, 2013
The Harlem Tourism Board (HTB) launched its "Our Harlem, Your Harlem" campaign today to promote the uptown community as one of New York City's "must see" tourism destinations. The promotion aims to make tourism a centerpiece of Harlem's economic development efforts, and will feature the neighborhood's cultural, arts, entertainment, dining and shopping attractions.
"The objective of the Harlem Tourism Board is to create partnerships with all businesses in Harlem to develop a mutually beneficial economic growth engine for one of the most famous urban communities in the world, " said William "Tony" Rogers, HTB president and CEO of Urbanology Systems, a strategic management and marketing company.
As a membership organization, the Harlem Tourism Board will coordinate its members' offerings, initiatives, and business activities by collaborating with the public sector. "Currently our board of directors and advisory board members are all individuals interested in promoting tourism in Harlem. Included are tour operators, marketing communications professionals and Harlem business owners," said Pat Stevenson, owner of Harlem News Group, Inc. and HTB vice president.
"Harlem has a wealth of historical landmarks and interesting attractions to draw in visitors, including fantastic shops, restaurants, nightlife, museums, music and art," said Eugenia Foxworth, HTB vice president and local real estate executive. "Our campaign will ensure that Harlem attractions get the attention they deserve."
"For more than three decades I have guided tourist through the streets of Harlem. As a result of the second Harlem renaissance, it continues to be an exciting community to explore," said Larcelia Kebe, owner, Harlem Your Way! Tours and member of the HTB advisory board.
"Harlem is an international community. There is room for everyone. Come visit," said Debbie Kops, tour guide, owner of NYC Hometown Tours and member of the HTB advisory board.
Members of the board, as well as the growing number of advisors to the board, are detailed below.
Harlem Tourism Board Members

Chairman and President: William A. Rogers, CEO, Urbanology Systems LLC
Treasurer: Thelma Russell, Russell Financials
Secretary: Lisa Louisa Bryant, owner, RIPARIAN Real Estate, LLC
Vice President: Pat Stevenson, publisher, Harlem News
Vice President: Eugenia Foxworth, real estate broker, Foxworth Realty
Vice President: Sabrina Brice, AVP/Branch manager, City National Bank
Vice President: Ami Yros, owner, Piatto D'Oro restaurant
Advisory Board Members

Audrey Bernard, society editor and travel writer
Debert Cook, CMP
Chitra Desai – owner, "I Love Harlem" trademark
Jose Ferrer, former producer of Kwanzaa Fest
Ruth Hunt - PR director, Bellevue Hospital and travel writer
Denice Johns - real estate agent
Larcelia Kebe - owner, Harlem Your Way! Tours Unlimited
Debi Kops - tour guide, owner, NYC Hometown Tours
Vincent Morgan – entrepreneur
April Nichols, principal, Violet Communications LLC
V. Dianne Thompson - radio executive
Willie Walker - superintendent, Harlem State Office Building
Ruby E. Valdez, Community Advocate
Frank Waters, owner, 1209 Affair
For more information about the Harlem Tourism Board, visit http://www.harlemtourismboard.com. The Harlem Tourism Board website is being developed, and will feature member businesses, attractions, calendar of events, places to live, places to dine and shop and history of Harlem.
Harlem area businesses interested in joining the Harlem Tourism Board can contact Pat Stevenson at info(at)harlemtourismboard(dot)com or 212-996-6006.