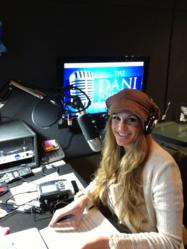 San Antonio, Texas (PRWEB) February 28, 2013
Listeners tune in several times a week to hear expert business, money and relationship advice from Dani Johnson, talk radio host of The Dani Johnson Show, broadcast on 99 stations across the United States and Caribbean. And now – for the first time – listeners will be able to catch The Dani Johnson Show live on SiriusXM 131.
The syndication of The Dani Johnson Show just celebrated its one-year anniversary in January. Eschewing the drama and belligerence so prevalent in national media, Dani Johnson uses her platform to mobilize and activate a community of listeners that stretches across the entire globe. In its first year, Talkers Magazine gave The Dani Johnson Show more than 15 mentions. Listeners interact both live on the show and via social media. "I listen because Dani is genuine, real, and because of the results we got in such a short time after applying the principles she teaches," shares an avid listener from St. Louis, MO.
Thousands of clients from around the world, many who found her through radio, also fly in to experience Dani speak at First Steps to Success, her trademark event. Her uncommon methods equip people to gain extraordinary success in their businesses, careers, and relationships.
With more than 10,000 client testimonials, many of which tell their own story of building built six- and seven-figure fortunes, Dani's track record of results is without peer. Whether you listen live on Satellite Radio via SiriusXM 131 or on your local station, expect results.
About Dani Johnson:
Dani Johnson is a best-selling author, internationally sought after speaker and syndicated radio show host. Her unique strategies equip her clients to make more money, annihilate debt and live the life they want to live. As an entrepreneur, wife, mother of five children and grandmother of four, Dani simplified her proven multi-million dollar expert business, money and relationship secrets into easy-to-follow methods that help people from all walks of life achieve the success of their dreams. Dani has a deep passion for taking care of orphans, widows, and the sick all over the world, and has inspired thousands of others to do the same. More information about her appearances, events and products available on http://www.DaniJohnson.com
###