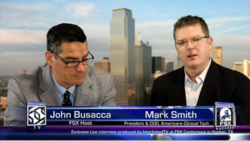 Dallas, Texas (PRWEB) February 28, 2013
During the recent FSX Investment Conference held at Dallas, Texas, AmeriCare Clinical Technologies President and COO, Mark Smith, granted an exclusive interview for InterlinkedTV, an on demand web channel dedicated to entrepreneurs and investors.
AmeriCare Clinical Technologies, Inc. is introducing a business model and brand called Occtima that incorporates wellness, injury prevention, and effective low cost treatment in the Workers Compensation market. The key to the model is taking a "Lean Principles" business approach to Occupational Health rather than the traditional dysfunctional medical approach which is incentivized by rendering medical services rather than lowering overall workers comp costs.
During the exclusive interview Smith stated that AmeriCare Clinical Technologies' goal is to show an alternative for occupational health and wellness with integrity at a much lower cost; aiming to cut workers comp by half.
The full interview is available only on InterlinkedTV.com.
If you would like to meet CEOs, BD, and other Investors first hand, get Interlinked with FSX by simply registering for their next event. Some restrictions apply. Must be an accredited investor or be registered through FINRA to attend an event.
About AmeriCare Clinical Technologies and InterlinkedTV
AmeriCare Clinical Technologies is a holding company and business development organization focused on medical technologies and services. They believe that business model innovation coupled with intelligent technology utilization will be the drivers to effectively transform healthcare delivery. More information at AmeriCareClinicalTech.com
InterlinkedTV is an internet video production and distribution site dedicated to entrepreneurs and investors. We feature education, public and private companies, venture capital news, and investment events. This content is exclusive and cannot be found anywhere else. We give our members and viewers a unique chance to meet the CEOs and executives of high growth companies. For more information go to InterlinkedTV.com & Interlinked.com