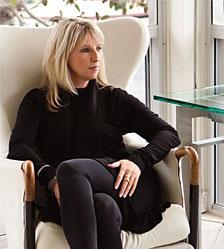 (PRWEB) February 28, 2013
Architect and designer Jennifer Luce is scheduled to speak Wednesday evening, March 6, 2013, at NewSchool of Architecture and Design on the topic of Deliberate Blur as part of the San Diego school's lecture series that brings inspiring and innovative designers and architects from around the world. The event is free and open to the public.
Who: Jennifer Luce
Lecture Topic: Deliberate Blur/Design Thinking Across Perceived Boundaries
Luce will explore the process of "navigating the fringe" through the exploration of spaces that lie between traditional architecture, site specific art, narrative landscapes and the sculptural form.
When: Wednesday, March 6, 2013. 7 p.m. Q & A follows lecture.
Where: NewSchool of Architecture and Design Auditorium. 1249 F Street, San Diego, CA 92101. **Priority seating given to NSAD students, staff, alumni and board members. Members of the public are requested to RSVP to PR Manager Anna Cearley for directions and to reserve a seat: acearley(at)newschoolarch(dot)edu or 619-684-8791**
About the Architect: Jennifer Luce is founder and Principal of LUCE et Studio, a practice that has gained national attention for projects that emphasize collaboration and interdisciplinary craft. Luce received her Bachelor of Architecture with Distinction from Carleton University, Canada in 1984 and a Masters of Design Studies from Harvard University's GSD in 1994. The studio has 21 local, state and national AIA awards. They received a 2006 Business Week Award for the intersection between Good Design and Business.
She is recipient of the 2007 A. Dunton Alumni Award of Distinction from Carleton University and is a member of the Alumni Advisory Council at Harvard University; pointing to her passion for education and mentoring. As an advocate for the arts, she also sits on the Advisory Council for LAND, a public art initiative in Los Angeles.
About NSAD's Lecture Series: NSAD's lecture series brings inspiring and innovative designers and architects from around the United States and the world to campus as part of the school's mission to enhance global design education opportunities for its students and the community.
About NSAD: NewSchool of Architecture and Design (NSAD), founded in 1980, is located in San Diego, California. NSAD was ranked among the top 10 undergraduate architecture schools in the western United States, according to the 2012 and 2013 DesignIntelligence reports on "America's Best Architecture & Design Schools." NSAD is accredited by the Accrediting Council for Independent Colleges and Schools (ACICS), a national accrediting agency recognized by the U.S. Department of Education and the Council for Higher Education Accreditation. NSAD's Bachelor of Architecture, Master of Architecture and Executive Master of Architecture programs are accredited by the National Architectural Accrediting Board (NAAB). NSAD also offers a pre-professional Bachelor of Arts in Architecture, along with a Bachelor of Science in Digital Media Arts, a Bachelor of Science in Construction Management, a Master of Construction Management and a Master of Science in Architecture. The school's expanding global design education offerings include a new Bachelor of Interior Design program available in 2013-2014. For more information, visit http://www.NewSchoolArch.edu.