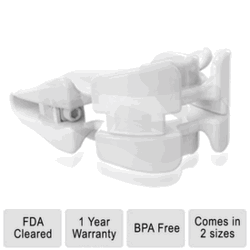 "The Vital Sleep mouth guard worked great. My snoring was very loud and would not only keep my wife awake but would wake me up as well. Immediately the mouth guard eliminated the snoring and we both could get a restful night sleep."
(PRWEB) February 28, 2013
The Snore Reliever Company, LLC has emerged with three anti-snoring remedies to help people quit the snoring habit once and for all. VitalSleep is best known for introducing to the market the VitalSleep mouthpiece to stop snoring that works as a solution to relieve snoring symptoms by helping to open the snorer's airway with the use of their mandibular advancement device. Now, their company showcases three more ways to help prevent snoring to have a more peaceful night's rest.
Adjusting Sleep Position
The way that people sleep plays a bigger role than one may think in one's ability to snore. For instance, elevating one's head may reduce snoring because it helps to open the air chamber. Then again, it may cause the tongue to obstruct the breathing passage way or cause neck pain from being propped up all night. In that event, a person should try sleeping on their side so that his or her tongue is not in the way of their breathing. For some, changing sleeping positions is easy, but for others it is more difficult. Many people find that using a body pillow helps to easily sleep in the side position or taping tennis balls to their back to avoid sleeping on their back at night.
Changing Pillow
Pillows can play a huge part in whether or not a person snores. Dust mites and other allergens can build up in a pillow over time. The build-up of allergens can cause allergic reactions to occur. Ultimately, this can lead to congestion which can lead to snoring. A person can keep their pillow fresh by putting it through a low heat cycle in a dryer or simply purchasing new ones every six months.
Staying Hydrated
To allow nasal passages to remain properly clear one may have to develop a ritual to ensure that you are remaining well-hydrated. A couple of suggestions are taking a hot shower before bedtime. This opens up the nasal passage and allows all congestion to be wiped out. A person can also create a solution of water and salt to pour into their nasal cavity to clear it out. Some people find sleeping with a humidifier next to their bed helps to keep their nasal passage clear throughout the entire night. In the end, keeping the nasal passage hydrated will eliminate the likeliness of snoring from being congested.
These suggestions are intended to help reduce or stop snoring for people who have mild snoring problems. The three snoring remedies listed above coupled with the VitalSleep Stop Snoring mouthpiece will work together to help people who snore find ultimate relief.
For more information about VitalSleep mouthguard for snoring and the products that they offer and to read about VItalSleep reviews please visit http://www.vitalsleep.com