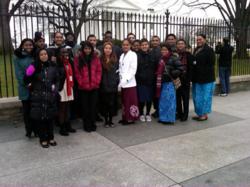 "Winter Congress is an amazing experience that gives students a voice to speak out on issues that are important to them."

-Student Governor Jordan Dicken
Washington, DC (PRWEB) February 27, 2013
The Junior State of America (JSA) held its annual Winter Congress conventions in Washington, DC during the weekends of February 8-10, 15-17 and 22-24. During these civic education simulations, over 2,200 student delegates played the part of representatives and senators, debating bills that were written and submitted by their peers. The students who participated gained a greater understanding of legislative procedure as well as sharpened their debate skills, and learned more about the issues that concern them.
On the Saturday of each weekend, the students began debating 75 bills that their peers selected from the hundreds submitted. Each bill must pass through its assigned House and Senate committee before being considered in the full House and Senate on the Sunday of each weekend for final passage. The first weekend, the students passed 23 bills, which included A Bill to Amplify the Protection of Diplomatic Posts in High-Risk Areas and Promote Government Accountability. The second weekend, the students passed 21 bills, including a bill to provide additional funding for arts programs in low-income schools. And the final weekend, the students 24 passed bills, including A Bill to Requite a Physiological Evaluation and Referrals Before Purchasing a Gun. "Winter Congress is an amazing experience that gives students a voice to speak out on issues that are important to them. It has given me the knowledge to understand the working of our national Congress and the confidence to speak out on issues that affect us everyday," Said Student Governor Jordan Dicken.
The students also got to expand their learning experience with a speakers program on Capitol Hill each weekend, and a keynote speaker at their opening sessions. These events included influential speakers such as Treasuer of the United States Rosie Rios, Under Secretary of Education Martha Kanter, White House Deputy Press Secretary Jamie Smith, and Deputy Secretary of Agriculture Kathleen Merrigan. Each of these sessions afforded students an opportunity not only to hear from these speakers, but also to question them on the policies within their respective purviews.
In addition to the students from the eastern US who attended the program, 24 students form the US territories and Freely Associated States participated in the final weekend of Congress conventions. Before joining the rest of the delegates, these students visited with the Department of the Interior's Office of Insular Affairs to learn more about the mainland's relationship to their homes, as well as the Department of Education, the embassies of the Freely Associated States, the White House, and the Capitol, where the territory students visited the offices of their delegates to Congress. For these students, the trip to the Congress convention afforded them not only a chance to experience how Congress works, but also a chance to understand more about their own home communities.
Junior State of America (JSA): Providing civics education and leadership programs for nearly 80 years, JSA is the largest student-run organization in the United States. School-year programs take place in more than 450 secondary schools in 35 states, with more than 10,000 members. The JSA program is supported by the Junior Statesmen Foundation Inc., a 501(c)(3) tax-exempt educational corporation, which provides guidance to JSA's student leaders. It has offices in San Mateo, Calif., and Washington, D.C. More information is available at http://www.jsa.org/ or jsa(at)jsa(dot)org.
###