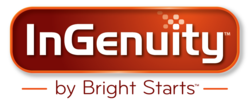 Our aim is to make it easy to keep your child's play environment clean.
Atlanta, GA (PRWEB) February 27, 2013
Baby product brand InGenuity has just launched a new product that will help keep children clean. With the flu season in full swing, stores are now stocking the new Washable Playard, the first fully machine-washable playard ever made.
Although no one can completely prevent the spread of germs, washing hands and disinfecting surfaces can cut them down. This is particularly true of surfaces that are in frequent contact with children, which is what prompted InGenuity to make every fabric surface on the Washable Playard removable and machine washable.
The Washable Playard features soft fabrics and is a comfortable place for a child to play or rest. It also folds to take on-the-go. The ingenious part is that all fabric parts are removable to quickly toss in the washing machine, and durable enough to stand up to repeated machine washing.
"Our aim is to make it easy to keep your child's play environment clean," said Meredith Robinson, a spokesperson for InGenuity. "No other playard has completely removable, washable fabrics. Babies are great at making messes, but it doesn't have to be hard to clean them up."
The removable fabrics can all be unzipped and taken off in minutes, making the playard easy to use. But Robinson says that's only one of its features.
"With the built-in changing table and storage tray and Dream Centre bassinet on top, it's an incredibly versatile playard," she said. "We included all the most requested features, but we know moms need it to be easy to clean. So that's how we designed it."
The InGenuity Washable Playard is available at Babies "R" Us.
About InGenuity:
InGenuity™ combines the latest innovations with on-trend styling and plush fabrics to create the most soothing and attractive baby gear offering possible. Each product is designed with smart solutions, technologies and features that make life with baby even more enjoyable and easier for parents. From a bouncer that bounces by itself, to a swing that runs on one set of batteries for baby's first year, this brand of innovative gear products raises the bar on feature and fashion.
ABOUT KIDS II, INC.
Kids II has been inventing and reinventing infant and toddler toys and gear for more than 40 years and has quickly become one of the world's fastest growing baby product companies. Headquartered in Atlanta, Kids II spans globally with operations in six continents serving customers in more than 70 countries. Driven by innovation, design and a comprehensive brand portfolio, Kids II is the next generation leader of infant and toddler products.
Kids II designs, markets and distributes more than 400 unique infant and toddler products, selling more than 22.8 million items per year. On average, it launches 125 new products a year. Under its flagship brands, Kids II has produced more than 100 award-winning products.
The brand portfolio strength runs deep under the Kids II umbrella, which includes its signature brands Bright Starts™, InGenuity™ and Comfort & Harmony™, as well as licenses to design and manufacture products for Disney™, Baby Einstein™, Oball™ and Taggies™.
Kids II's international affiliate operations are located in Australia, Canada, Europe, China, Hong Kong, Japan, Mexico and South Africa. Visit http://www.kidsii.com