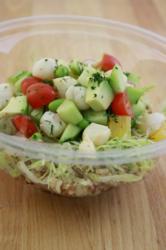 (PRWEB) February 28, 2013
As one of the premier sushi vendors serving Whole Foods Market, Genji Sushi is proud to take part in the all-natural and organic grocer's Health Starts Here program by offering three new Japanese-inspired menu items that meet the program's guidelines. Genji's Sesame Kale Roll, Vegetarian Ceviche bowl and Scallop Ceviche Chirashi bowl are now exclusively available at select Whole Foods Market stores in Southern California.
The Health Starts Here guidelines are founded on 4 Pillars (Whole Food, Plant-Strong™, Healthy Fats and Nutrient Dense) and stem from the belief that focusing on these elements of healthy eating offers the greatest health benefits, no matter what dietary path shoppers follow.
Genji's corporate executive chef, Takao Iinuma, a nutrition counselor and close protégé of Iron Chef Masaharu Morimoto, took the guidelines to heart and focused on creating dishes with fresh nutrient-dense vegetables and whole grains for delicious, clean flavor profiles. All three items feature Chef Iinuma's hearty blend of Red Bolivian Quinoa and Brown Rice, seasoned with light honey-citrus balsamic vinaigrette.
The Sesame Kale Roll is a mouth-watering vegetarian-friendly take on the classic inside-out roll. It's made with wholesome Quinoa-Brown Rice blend on the outside and sesame and tahini-tossed kale, steamed asparagus, julienned carrots and nori (seaweed wrap) on the inside.
The Vegetarian Ceviche bowl features edamame, avocado, red onion, orange slices, grape tomatoes, cucumbers and dill, tossed in white balsamic vinaigrette on a bed of the nutrient-rich grain blend. The Scallop Ceviche Chirashi bowl has the same ingredients as the Vegetarian version, but with the addition of omega-3 rich and delicious wild-caught bay scallops. Each item in the series is bursting with color, flavor and nutrition, and comes in at fewer than 300 calories.
"Finding a balance between health and taste has been a lifelong pursuit of mine. It has been a joy to work with Whole Foods Market to create dishes that people can thoroughly enjoy while feeling great about their choices," Said Chef Iinuma.
Genji's new line of Health Starts Here sushi items will be available at select Whole Foods Market locations throughout Southern California, with prices ranging from $6.99-$8.99. Roll-out locations include El Segundo, Redondo, Torrance, Huntington Beach, Long Beach, Laguna Beach, Jamboree (Tustin), Hillcrest, La Jolla, Encinitas and Del Mar.
About Genji Sushi
Established in 1997, Genji Sushi is dedicated to the finest quality all-natural sushi and Japanese-inspired cuisine in a grab‐and‐go style. Its sushi bars are located within 164 Whole Foods Market stores in 18 states and the District of Columbia, as well as the U.K. At each location, skilled chefs prepare a variety of fresh items on‐site, including raw, cooked, vegetarian and vegan-friendly sushi and sides. The company's mission is to serve food-lovers with delicious Japanese-inspired food and knowledge to lead happy, healthy lives. For more information, visit http://www.genjiweb.com