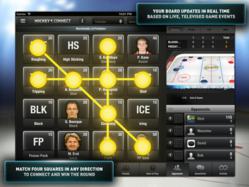 "Our Connect Game is no-holds-barred, full-boar, non-stop action and it's live, powerful and thrilling. I promise you won't fall asleep during the game.." Daren Trousdell CEO
Palm Beach Gardens, FL (PRWEB) February 28, 2013
Hockey is back with Hockey Connect App– the free, live-action, socially connected sports app from OneUp Games. It's like Bingo but with a Fantasy Sports and Social twist. And apparently apps like these could save your life. As reported in the Wall Street Journal, "Researchers have discovered that boredom can actually be fatal. As for one thing, boredom has serious consequences for health and productivity, they say, linked to depression, overeating, substance abuse…and even mortality—people may, indirectly, be "bored to death." One 2010 study found that the boredom-prone are more than twice as likely to die of heart disease than their more-engaged brethren.
Daren Trousdell, CEO of OneUp Games, notes "While I can't say I've come close to being bored to death while watching live sports on TV, I know I'm not alone in having fallen asleep in the middle of a game, or having my wife and kids walk past me like I'm dead. It's time we all fessed up: live sports can sometimes get a little boring and with this latest research, I know I'm not taking any chances. Luckily we have the most exciting, fan focused sports apps that connect you to the game, your friends, family, fans and other players."
After downloading Hockey Connect for free on your iPhone or iPad from the Apple App Store, you simply pick the game you want to play and your personalized gameboard instantly launches with a Bingo-like board filled with randomly generated 'events' (Penalty, Sidney Crosby Goal, Power Play, etc.). Here's where you start strategizing. You can manipulate your board exactly how you want it. As events happen in the live game they happen in real-time on your game board. The first player to get four events in a row wins the round.
Trousdell continues, "Our Connect Game suite (Basketball, Baseball, Football, Hockey, Soccer and more) is no-holds-barred, full-boar, non-stop action and it's live, powerful and thrilling. I promise you won't fall asleep during the game and you may have to start some friendly competition with your family, friends and even co-workers who will definitely want in on the fast-paced game while they watch their favorite pro sports teams play."
Hockey ConnectTM is free, offers a host of features from live chat, leader boards, ability to block other players' game boards and freeze or protect your own game board from your opponents. You can see the game moves in real-time, change your strategy, check on competitor strategies, win games back-to-back and even heckle (or congratulate) the other players. Every player also gets direct connection to all the other players and your friends via the OneUp Network which is attached to all major social networks including Facebook, Twitter and Sina's Weibo service.
About OneUp Games
Established in 2011, OneUp Games enhances TV sports watching, using the power of mobile and social platforms to bring teams, fans and friends together. OneUp Games use of the second screen compliments live sporting events, through interactive games and conversation. Realizing a missing link in the world of social TV between fan and sport, OneUp Games created Football Connect, a first-of-its-kind mobile app connecting sports fans to the live event through a bingo-type game. Based in Palm Beach Gardens, Fla., OneUp Games is constantly developing new fun; rewarding and engaging apps to further bring being the ultimate sports fan to the next level. For more information, visit http://www.1up.me, on twitter at @oneupgames and on Facebook.
###
Media Contact:
Paula Sirois
paula(at)1up(dot)me
561.324.8116
http://1up.fm/games/hockey-connect/