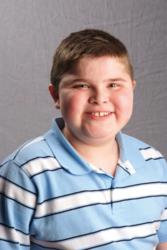 "My favorite part of the job is meeting new people and being able to thank the sponsors and supporters in person who help make an impact in the lives of people just like me," Bryson said.
Tucson, AZ (PRWEB) February 27, 2013
Bryson Foster spent the past year jet-setting across the country, making red carpet appearances and rubbing elbows with celebrities as one of the Muscular Dystrophy Association's rising stars, and now the 12-year-old is set to serve a second term as MDA's National Goodwill Ambassador for 2013.
Bryson, of Concord, N.C., captured the hearts of many throughout 2012 as the face and voice of MDA. He traveled to more than 10 cities to make appearances at nearly 20 events, which has him more than prepared to take on another action-packed year as MDA's spokesman.
"It's a huge honor to serve a second term as MDA's National Goodwill Ambassador," Bryson said. "My favorite part of the job is meeting new people and being able to thank the sponsors and supporters in person who help make an impact in the lives of people just like me. Every dollar and every cent really does count, and my mission is to have fun while spreading the word about MDA and its mission to help people living with muscle disease."
Throughout 2012, Bryson's positive attitude and quick-witted personality captured the attention of Hollywood celebrities, earning him a number of invitations to A-list events. In September 2012, Bryson was personally invited by rapper Pitbull to attend the exclusive iHeartRadio Music Festival in Las Vegas. He's also been invited to several concerts as a special guest and met some of his favorite artists, including country superstar Tim McGraw.
While Bryson has fulfilled several of his personal dreams over the past year, perhaps the greatest was making his national television debut last fall when he was profiled and served as co-announcer on the national broadcast of MDA's SHOW OF STRENGTH™.
He worked alongside fellow announcer Nancy O'Dell, host of "Entertainment Tonight" and MDA's National ALS Ambassador, introducing the local show cutaways during the broadcast.
Impressed by Bryson's TV hosting skills, O'Dell asked him to voice a character in her new educational and interactive storybook app for kids "Little Ashby: Star Reporter," now available on iTunes. The app is based on Little Ashby, a cute, smart and resourceful cub reporter for the TV show, "Tykes Today," and follows the adventures of Little Ashby and her field reporting crew, including cameraman Arty, Bryson's character.
"Most kids my age don't come across opportunities like the ones I've had over the past year," Bryson said. "I've experienced so many new things and met wonderful people along the way. I just want to keep speaking from my heart and doing what I love most to inspire people to support a cause that is close to me and my family."
Bryson can expect another big year in 2013 and will continue to travel the country with his parents Phil and Claire. Among the many appearances he's scheduled to make, Bryson will help MDA national sponsor Harley-Davidson rev their engines for their 110th Anniversary celebration on Labor Day weekend in Milwaukee.
In addition to his national responsibilities, Bryson is also excited to participate in state and local events, including Muscle Team, Muscle Walk, Lock-Ups, Shamrocks, Fill the Boot, golf tournaments and social events. Bryson's also a regular at events sponsored by MDA national sponsor Lowe's, headquartered outside Charlotte, N.C.
"MDA is extremely lucky to have a shining star like Bryson to represent the individuals and families we serve. We couldn't be more thankful to him and his parents for staying on board for another busy year," said MDA President and CEO Steven M. Derks. "Bryson is an ambitious young man who truly understands the importance of MDA's mission. He takes his job seriously, his enthusiasm is contagious and the number of friends he's made for the Association is immeasurable. Bryson is certainly a non-stop dynamo!"
Bryson is the only child of Phil and Claire Foster. His father works for US Foods; his mom works for Piedmont Plastics.
Bryson has Duchenne muscular dystrophy (DMD), one of the nine forms of muscular dystrophy covered in MDA's program. DMD is a degenerative muscle disease characterized initially by muscle weakness in the hips, legs and shoulders. It involves progressive degeneration of voluntary and cardiac muscles; weakened cardiac and respiratory muscles severely limit life span.
When he's not busy on MDA's behalf, Bryson is enthusiastic about his sixth-grade classes. He enjoys playing with his friends and singing karaoke. Bryson is a self-proclaimed sports fanatic, and his ultimate dream is to become a quarterback for the Cincinnati Bengals, a head coach or sports announcer — in that order.
About MDA
MDA is the nonprofit health agency dedicated to finding treatments and cures for muscular dystrophy, ALS and related diseases by funding worldwide research. The Association also provides comprehensive health care and support services, advocacy and education.
In addition to funding more than 250 research projects worldwide, MDA maintains a national network of 200 medical clinics; facilitates hundreds of support groups for families affected by neuromuscular diseases; and provides local summer camp opportunities for thousands of youngsters living with progressive muscle diseases.
For more information, visit mda.org and follow MDA on Facebook (facebook.com/MDAnational) and Twitter (@MDAnews).