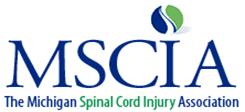 It's great to see that we have such an outstanding support system for individuals with spinal cord injury or disease in the State of Michigan
Troy, Michigan (PRWEB) February 28, 2013
The Michigan Spinal Cord Injury Association (MSCIA) will be hosting its first fundraiser since becoming a certified 501(c)3 organization. The event will take place on Thursday, April 18, 2013 at Club Venetian in Madison Heights and we are encouraging all community members to attend.
Every day more than 30 people become paralyzed from a spinal cord injury or the progression of a spinal cord disease. The majority of these people rely on wheelchairs for mobility assistance and in turn, they face many barriers and obstacles in everyday life. The mission of the MSCIA is to enhance and empower the lives of those with spinal cord injury and disease through advocacy, education and research. The MSCIA aims to ensure that individuals affected by spinal cord injury and disease achieve and maintain the highest levels of independence, health and personal fulfillment.
All donations and sponsorships collected from this event will go towards special programs designed by the MSCIA to benefit those with spinal cord injury and disease throughout the entire state of Michigan. These special programs include support groups for patients and families, resource guides and advocacy initiatives for 2013.
"I am happy to announce that AmeriCare Medical, Inc. has committed to being our Platinum Sponsor and we have also gotten commitment from nine other sponsors for this event," said Karynn Sheeter, Director of Community Outreach for the MSCIA. "It's great to see that we have such an outstanding support system for individuals with spinal cord injury or disease in the State of Michigan."
Tickets for this event are available for purchase at $100 each or $80 for members of the Michigan Spinal Cord Injury Association or the National Spinal Cord Injury Association. Tables of eight are also available for purchase at $700. Various sponsorships are also still available.
To purchase tickets please contact Karynn Sheeter at 248-388-2270 or visit http://www.mispinalcord.org/mscia-spring-gala. Tickets are available for purchase until April 5, 2013.