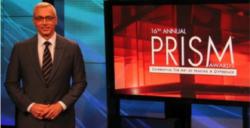 "Powerful stories about mental health not only raises public awareness, but may also encourage people to recognize and address these issues in their personal lives." - Dr. Drew Pinsky
Los Angeles, CA (PRWEB) February 27, 2013
The Entertainment Industries Council (EIC) has announced all of the 17th Annual PRISM Awards Nominees. To date, both the unscripted and scripted nominees have now been announced. The PRISM Awards honor TV, movies, music, and comic book entertainment that accurately depicts substance abuse, treatment, recovery, and mental health issues. Submissions were considered by the Nomination Review Committee of over 80 representatives of both the entertainment industry and health field and nominated from over 400 submitted productions, according to Brian Dyak, President, CEO and Co-Founder, EIC.
Nominees for Talk Show Episode were episodes of Anderson Live (Telepictures), Dr. Drew On Call (HLN), Dr. Phil (CBS Television Distribution), Jane Velez-Mitchell (HLN), and The Steve Wilkos Show (NBC Universal Television).
In the category of Unscripted Non-Fiction, nominees were D.U.I. (TLC), Last Shot with Judge Gunn (Trifecta Entertainment), Married to Jonas (E! Entertainment), The Real Housewives of Beverly Hills (Bravo), and Rehab with Dr. Drew (VH1).
In the Feature Film Documentary category, nominees were The Invisible War (Cinedigm-New Video) and Of Two Minds (New Video). Nominated TV Documentaries were Addicted (TLC), Court McGee: Dead Man Fighting (ESPN), Intervention (A&E Network), Our America with Lisa Ling (OWN), True Life (MTV), Demi Lovato: Stay Strong (MTV), Hoarders (A&E Network), and Outside the Lines (ESPN).
In the scripted Feature Film categories, nominees were Barrymore (Image Entertainment), California Solo (Strand Releasing), Deep in the Heart (28 Entertainment), Flight (Paramount), Least Among Saints (Papazian Hirsch), Return (Focus World), Silver Linings Playbook (Weinstein Co.), and Smashed (Sony Classics). Feature film performances nominated were Linda Cardellini (Return), Bradley Cooper (Silver Linings Playbook), Aaron Paul (Smashed), Christopher Plummer (Barrymore) and Denzel Washington (Flight).
For Comedy Series, nominated episodes or multi-episode storylines hailed from Anger Management (FX), Glee (Fox), Go On (NBC), Modern Family (ABC), New Normal (NBC), Nurse Jackie (Showtime), Up All Night (NBC), and Whitney (NBC). Nominated comedy performances were Will Arnett (Up All Night), Justin Bartha (New Normal), Whitney Cummings (Whitney), Edie Falco (Nurse Jackie), and Matthew Perry (Go On).
Drama Episodes nominated were from Army Wives (Lifetime), Awake (NBC), Chicago Fire (NBC), CSI: New York (CBS), The Good Wife (CBS), Grey's Anatomy (ABC), The Mob Doctor (Fox), Necessary Roughness (USA), Parenthood (NBC), and Southland (TNT). Michael Cudlitz (Southland), Wendy Davis (Army Wives), Jason Isaacs (Awake), Sandra Oh (Grey's Anatomy), and Callie Thorne (Necessary Roughness) were nominated for Performance in a Drama Episode.
In the area of Drama Multi-Episode Storylines, nods went to American Horror Story: Asylum (FX), Army Wives (Lifetime), Breaking Bad (AMC), Elementary (CBS), Homeland (Showtime), Justified (FX), Nashville (ABC), NCIS (CBS), 90210 (CW), Nurse Jackie (Showtime), Sons of Anarchy (FX), and Touch (Fox). Performance nominations for multi-episode stories went to Bryan Cranston and Aaron Paul (Breaking Bad), Claire Danes (Homeland), Mark Harmon (NCIS), Jessica Lange (American Horror Story), Lucy Liu (Elementary), Neal McDonough (Justified), Hayden Panettiere (Nashville), Katey Sagal (Sons of Anarchy), and Kiefer Sutherland (Touch).
Duke (Hallmark) and Of Two Minds (Lifetime) earned nominations for TV Movie or Miniseries. Also nominated was daytime drama series Days of Our Lives (NBC). In the Teen or Children's Program arena, nominees were three storylines from Degrassi: The Next Generation (TeenNick).
Among networks, NBC came out on top with 13 nominations, followed by FX (7), CBS (6), ABC (5), then Lifetime and Showtime (4 each), AMC, MTV and TeenNick (3 each), and HLN, TLC, TNT, ESPN, A&E and USA (2 each). 20th Century Fox/Fox 21 took the number one slot among studios with 14 nominations, followed by NBC Universal (13), Sony (10), CBS (8), ABC (7), Lionsgate (5), FX (4), Warner Bros. (3) and Paramount, Weinstein Co. and A&E Network (2 each).
"The national conversation about mental health is vibrant and all-encompassing with people increasingly interested in diagnosis, treatment and resilience. Entertainment creators can change attitudes and behaviors through accurate portrayals, reducing stigma and discrimination surrounding mental health. The PRISM Awards shines a spotlight on the power of mass media and honors those who engage in the ART of making a difference by bringing authentic, empowering, and even educational characters and storylines to life," said Dyak.
Winners will be announced during a ceremony on April 25, 2013 at the Beverly Hills Hotel. The 17th Annual PRISM Awards Showcase is set to be nationally televised on September 14, 2013 through flagship airing partner FX Network, as well as other cable networks, broadcast stations, video on demand, and online.
For a complete list of nominees,click here.
About Entertainment Industries Council
EIC is a non-profit organization founded in 1983 by leaders within the entertainment industry to bring their power and influence to bear on communication about health and social issues. The organization is considered to be the chief pioneer of entertainment and journalism outreach and a premiere success story in the field of entertainment education. This mission relies on providing resource information to the creative community and culminates in recognition of the industry through the national television special PRISM Awards Showcase which addresses accurate portrayals of substance use issues and mental health concerns. The organization also produces the S.E.T Awards, honoring positive and non-stereotypical portrayals of science, engineering and technology.
For a complete list of health and social issues addressed by EIC and local projects please visit First Draft and EIC's website. EIC's web site is http://www.eiconline.org. The PRISM Awards web site is http://www.prismawards.com.
# # #