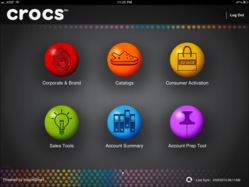 SPOT empowers sales people with the data they need to achieve success, all combined in one easy-to-access platform.
Greenwood Village, CO (PRWEB) February 27, 2013
Denver web development firm InspireSmart has launched an iPad & web based application called SPOT, which stands for Sales Presentation & Ordering Tool. This product has been in development for nearly a year, and its goal is to assist business to business sales operations by increasing the ease of access to brand and marketing data, streamlining the training process for sales teams, and providing instant access to account history.
The application started out as more of a digital catalog solution for internal forecasting operations, and this functionality has also been implemented in the release version of the applicatoin. Using the iPad, regional market managers have the ability to view the newest product lines the company is offering and place an estimated for each product directly from the iPad. All of the catalog data is input from a cloud based web portal, which also stores the forecasted orders made by managers.
As InspireSmart continued to develop this digital catalog tool, it morphed into a more extensive sales presentation platform. Recognizing the iPad as the interactive device it is, InspireSmart's development team saw the potential for storing and presenting helpful sales related material. The app contains five distinct modules that allow users to access and sort through important data. These modules are as follows: Corporate and Branding, Promotions, Sales Tools and Tips, Account History and Summary, and Sales Prep Tool.
Subodh Gupta, President and Founder of InspireSmart Solutions, envisions numerous applications for SPOT in medium to large and enterprise scale companies. "Not only does SPOT empower sales people with the data they need to achieve success, all combined in one easy-to-access platform," he says, "but it also gives managers and product development teams a way to instantly disseminate new company information without printing and shipping costs." He believes that sales teams across the globe will slowly steer away from paper records and toward storing all company sales data and product information digitally.
InspireSmart is currently talking to a few companies in the apparel and beauty industries about implementing SPOT to increase sales team efficiency and success. Indeed, the main goals of SPOT have been outlined as such: to make companies competitive, efficient, money, and success.
You can learn more about SPOT by visiting the sales presentation tool page on the InspireSmart website, and you can request more information or a quote from their contact page.
About InspireSmart
InspireSmart Solutions, Inc. is a Colorado based web and software development firm that has been providing custom business solutions for nearly a decade. The company works with medium to large and enterprise scale businesses to implement strategic technological solutions, including streamlined ecommerce websites, robust back end management systems, and cloud based mobile applications. To learn more, visit http://www.inspiresmart.com.