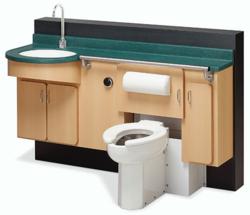 The Bradley brand represents innovation, quality, durability and exceptional value to our customers - Jeffery N. Dinardo
West Babylon,NY (PRWEB) February 27, 2013
Quality Door & Hardware, Inc., says that its decision to feature the full line of Bradley washroom accessories on its e-commerce site is a natural fit. "The Bradley brand represents innovation, quality, durability and exceptional value to our customers," comments Jeffrey N. Dinardo, Sr., owner of Quality Door & Hardware.
Kenneth Carnesi, Director of International Sales comments that, "Bradley products are now available in 113 countries worldwide and the company's recent focus is expansion into emerging markets. Featuring Bradley products on our own global e-commerce site allows us to offer excellent value and choice to all our international customers".
Bradley is a leading manufacturer of plumbing fixtures and washroom accessories. Started more than 90 years ago, Bradley has consistently delivered innovative and quality products throughout its long and successful history.
Among the most popular Bradley products featured by Quality Door & Hardware are Bradley Paper Towel Dispensers, Waste Receptacles, Mirrors, Soap Dispensers, Hand Dryers, Grab Bars and Shower Accessories. Particularly innovative is the Bradley line of fully integrated, in-room Patient Care Units. These Patient Care Units are specially engineered for use in hospitals, clinics and nursing home applications and are designed with unique functionality to enhance both staff productivity and patient safety.
Quality Door & Hardware carries a full line of Bradley products and invites you to visit us at: http://www.QualityDoor.com to view all of our fine Bradley products offered at everyday competitive prices and backed by our unparalleled customer service. For over 25 years, Quality Door & Hardware has been an industry leader in commercial door hardware and is constantly seeking out new products and new ways to bring extra and superior value to our customers. Please experience for yourself "the difference that 'Quality' can make in your business".