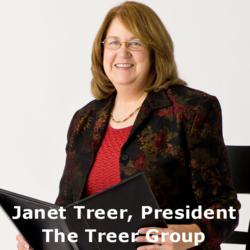 LinkedIn is the most powerful social media platform and networking tool for business today.
Lancaster, PA (PRWEB) February 28, 2013
The Treer Group is once again offering its popular LinkedIn Workshops in March and April, 2013. In addition to LinkedIn Basic and LinkedIn Advanced, a new workshop, LinkedIn for Job Search, will be offered. The workshops are developed and presented by Janet Treer, President of The Treer Group, a strategic planning, coaching, leadership development and management consulting firm based in Lancaster, PA. Registration links included below.
"LinkedIn is the most powerful social media platform for business today, and it can be leveraged in many ways to strengthen positioning and prospecting in the marketplace," says Treer. "Optimally utilizing LinkedIn can greatly assist members in their jobs and career progression."
The workshops schedule:
LINKEDIN BASICS WORKSHOP - March 21, 2013, 9:00-Noon. Fee = $59.00. Register.
Participants will get an overview of social networking and LinkedIn in particular - what it is and why it is important. The session will cover:

The Value of Social Networking
What LinkedIn Is and Why to Use It
How to create a Personal Profile
Overview of the New LinkedIn Profile Appearance
How to Create and Grow your Network on LinkedIn
How to Give and Receive Recommendations
How to Get Noticed
The Value of Joining Groups
An Overview of Useful LinkedIn Applications
How to Protect your Privacy
LINKEDIN JOB SEARCH WORKSHOP - March 28, 2013, 9:00-Noon, Fee = $59.00. Register.
This session will cover much of the material in LinkedIn Basic, but with an emphasis on job searches. Some additional topics are:
How to Use LinkedIn for Research
How to Find Jobs on LinkedIn
How to use LinkedIn for Warm Introductions to Key People
LINKEDIN ADVANCED WORKSHOP - April 18, 2013, 9:00-noon, Fee = $59.00. Register.
Participants will enhance their knowledge about how to strengthen their LinkedIn profile, how to be found more often by using keywords in the right places in their profile, how to put their best foot forward with a polished profile, how to create a LinkedIn company page, how to use LinkedIn for lead generation, how to use LinkedIn for hiring and how to protect privacy.
The Power of LinkedIn
Enhancing a Basic Profile
Leveraging LinkedIn Applications
Customizing LinkedIn Settings
Using LinkedIn for Research
LinkedIn for Lead Generation
LinkedIn Company Pages
LinkedIn for Hiring
Leveraging Groups
Protecting Your Privacy
All three workshops will be held at Best Western Premier Eden Resort & Suites, 222 Eden Road, Lancaster, PA 17601. Registration and networking begin at 8:30 am.
About The Treer Group: The Treer Group provides coaching, assessments, tools and guidance to help organizations and individuals identify areas in need of improvement, discover practical solutions and implement long-lasting change that comes from within. Janet Treer, President, founded The Treer Group in 2007.