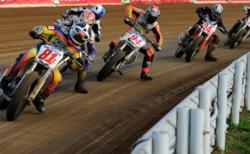 J&P Cycles is proud to be a part of the AMA Pro Flat Track series this year.
Anamosa, IA (PRWEB) February 28, 2013
J&P Cycles is pleased to announce a newly formed partnership with AMA Pro Racing. J&P Cycles will serve as the Presenting Sponsor of AMA Pro Flat Track and Title Sponsor of the AMA Pro J&P Cycles Pro Singles class this year. As part of the agreement, J&P Cycles will contribute a $25,000 Year-End Points Fund for the rising stars of the AMA Pro J&P Cycles Pro Singles Class after the motorcycle parts and accessories giant.
"We are very excited to begin this partnership with J&P Cycles," said Michael Gentry, Chief Operating Officer of AMA Pro Racing. "I see great things in store for the future in the ranks of the J&P Pro Singles class and look forward to the success our up and coming riders will attain, thanks to this new relationship. The support that J&P Cycles has pledged through the year-end points fund is vital to the growth of the sport and is deeply appreciated by the entire paddock."
J&P Cycles will have access to a number of marketing and promotional activations in 2013. At each event on the 2013 AMA Pro Flat Track presented by J&P Cycles schedule, the company will have access to on-site activation. The two companies will also be working together to develop unique and engaging website content and social media initiatives in order to further the sport by engaging the younger demographic.
"J&P Cycles is proud to be a part of the AMA Pro Flat Track series this year," said J&P Cycles Vice President/General Manager Zach Parham. "AMA Pro Flat Track represents the grass roots of racing at its best, and we are pleased to be a part of this sport with so much history. The racing this year is going to be exciting and we look forward to sharing the excitement and action with our customers."
The J&P Cycles Pro Singles division is the deepest it's been in recent years. The talent pool is impressive and growing, and the Championship is almost guaranteed to come down to the wire when the season concludes in Pomona. Defending champion Stephen Vanderkuur will be gunning for a repeat season, but the Michigan product will undoubtedly have his hands full as aggressive competitors such as Jake Cunningham, Dominic Colindres, Shayna Texter, Gerit Callies and many others all share the same aspiring title hopes. As if pride wasn't enough for these young stars, a $10,000 bonus will now be awarded to the 2013 J&P Cycles Pro Singles Champion. The complete pay structure for the J&P Cycles Year-End Points Fund is as follows: Champion, $10,000; 2nd place, $5,000; 3rd place, $4,000; 4th place, $3,000; 5th place, $2,000; 6th place, $1,000.
The 2013 AMA Pro Flat Track presented by J&P Cycles season will kick off as part of the historic DAYTONA 200 Week. The AMA Pro Grand National Championship and J&P Cycles Pro Singles divisions take to the track in a set of one-day events on March 14 and 15, 2013 at the DAYTONA Flat Track, located just outside of the Daytona International Speedway's west banking. For tickets, please visit http://www.daytonainternationalspeedway.com.
About J&P Cycles:
J&P Cycles is the world's largest retailer of aftermarket parts and accessories for Harley-Davidson and V-Twin Cruiser motorcycles. In business for 34 years, we carry a full line of products from the brands you trust: Kuryakyn, Vance & Hines, Performance Machine, Mustang Seats and many more. J&P Cycles carries tens of thousands of items in stock, in print and online, delivers the best customer service and return policy in the industry. For more information, visit http://www.jpcycles.com and start building your dream today!
About AMA Pro Racing:
AMA Pro Racing is the premier professional motorcycle racing organization in North America, operating a full schedule of events and championships for a variety of motorcycle disciplines. Learn more about AMA Pro Racing at http://www.amaproracing.com.