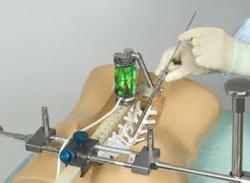 Robotic Spine Surgery Performed by Dr. Masaki Oishi, Neurosurgeon in Houston TX
Houston, TX (PRWEB) February 28, 2013
The Mazor Robotics Renaissance™ is a robotic surgical device which advances the field of spine surgery. Utilizing the device, the spine surgeon can enhance patient safety, decrease radiation exposure, and turn complex procedures into more simple ones. Dr. Masaki Oishi, a highly accomplished neurosurgeon/ spine surgery expert who joined the Kraus Back and Neck Institute in Houston, TX just a few months ago, is pleased to offer patients in the Houston area robotic-assisted surgery utilizing the Renaissance™ system, developed by Mazor Robotics. "Humble Surgical Hospital in Humble, Texas, a multispecialty surgical hospital, recently announced acquisition of the state-of-the-art robotic system that enables surgeons to perform even the most complicated spine surgeries with the utmost accuracy and safety.", said Dr. Oishi. "The system uses far less radiation than conventional guidance methods and can be applied to minimally invasive surgery, scoliosis surgery, and other complex cases."
Dr. Gary Kraus with the Kraus Back and Neck Institute adds "Dr. Oishi is a highly skilled neurosurgeon who is constantly working to stay at the leading edge of technology as it pertains to neurosurgery. His advanced skills in robotic surgery of the spine help to enhance patient safety and improve patient outcomes. We are delighted to be able to offer this very sophisticated service to patients."
Mazor Robotics' Renaissance, a state-of-the art surgical guidance system for spine procedures, is the only robotic technology for spine surgery available in the marketplace. Worldwide, there have been over 15,000 spinal implants placed using this device. In a clinical study DeVito et al found a 98.3% accuracy of 3271 implants in 635 cases in 14 medical centers. Kantelhardt et al found that in 112 cases, the robotic system improved implant accuracy by 70%, reduced X-ray dosage by 56%, reduced complication rates by 48%, and reduced re-operations by 46%.
Dr. Oishi completed a Spine Surgery Fellowship at the University of Pittsburgh Medical Center Department of Neurosurgery in 2003. Born in New York City, he attended Cornell University Medical College, completing his M.D. degree in 1996. Dr. Oishi received a Ph.D. in Molecular and Cellular Neuroscience from the Rockefeller University in New York. He received his Neurosurgery residency training at the Montefiore Medical Center / Albert Einstein College of Medicine in New York City. Dr. Oishi is Board Certified by the American Board of Neurological Surgery. He has been the recipient of the National Institutes of Health National Research Service Award.
Dr. Oishi specializes in both minimally invasive as well as traditional surgical approaches to the spine. He also has expertise in brain surgery, including thetreatment of brain tumors, hemorrhages, and hydrocephalus.
Dr. Oishi practices spine surgery / neurosurgery in Houston, and is focusing onthe patients of Katy, West Houston, Humble / Kingwood, and the Memorial City area.
The Kraus Back and Neck Institute is dedicated to helping patients with surgical and non-surgical disorders of the spine. When needed, the most advanced surgical techniques are utilized to help achieve an excellent outcome. Advanced conservative non-surgical treatment options are also available and encouraged when surgery is not needed.
Consults for Dr. Oishi can be scheduled with the Kraus Back and Neck Institute at 281-44 NEURO (63876) or 281-870-9292.