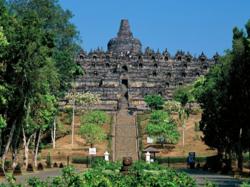 Our tours appeal to people who dream of life-changing experiences in Bali or China or the South of France.
Las Vegas, Nevada (PRWEB) February 28, 2013
Spirit Quest Tours is inviting travel agents throughout the United States to become a preferred partner with the Las Vegas-based tour company. The company's tours to exotic and off-the-beaten path destinations hone in on the spiritual components of a region and culture. Company founders say the tours appeal to clients who want a different type of vacation experience.
"Some of our best referrals and travelers come to us from travel agents who are on the front lines working with clients. They recognize when their client wants or needs something more. A client going through a divorce might think she wants a crazy beach getaway, but what she really dreams of is a life-changing experience in Bali, or France or Spain. We can provide that," says Halle Eavelyn, co-owner of Spirit Quest Tours.
Preferred partner travel agents participate in the company's referral fee program when they book their clients on any of the Spirit Quest Tours. Itineraries for trips to Southern France, Spain, Bali, China, Peru and other exotic locales are posted on the Spirit Quest Tours website. Deadlines are approaching for reservations on trips through July, with early booking discounts available.
"We provide incredible group travel opportunities, but we also specialize in customized travel itineraries that appeal to the most discerning travelers. Our Spiritual L.A. tours, for example, are becoming very popular with men and women who want to get away to do yoga on the beach, hike the trails in the hills, be pampered in spas or luxury hotels as part of a personal cleansing experience. We take care of every detail down to the health food restaurants and driver," Eavelyn says.
"Travel agents often tell us that they get resistance from clients who are opposed to 'group tours.' What makes our tours different is the focus on the spiritual and experiential components. We've removed the rushing around and the packed schedules that get in the way of immersing yourself where you are. Our tours appeal to like-minded individuals who choose to travel to a gypsy festival on the Mediterranean or experience an ancient ceremony in a hidden grotto, rather than rush from place to place trying to see all of a country in seven days," she says.
Travel agencies and agents interested in registering as preferred travel partners or who desire more information on any of the upcoming tours offered by Spirit Quest Tours can call 877 406 5206.
Click here to watch a video.
About Spirit Quest Tours __title__ ]
Spirit Quest Tours offers luxury spiritual travel to exotic locations. The company's Preferred Travel Partner Program is available to travel agents throughout North America. For more information, visit http://www.spiritquesttours.com
2013 Tour Schedule
Spiritual L.A. – Custom Tour Packages available for March and April
Esoteric America – May 15 to 20, 2013
Path of the Magdalen (Southern France) – May 21 to May 30, 2013 with an optional extension to Paris through June 3, 2013
Eat, Pray, Love (Bali) – June 22 to 28, 2013 with an optional extension through July 2, 2013
Sacred Sites of Peru – July 14 to 28, 2013
Tilting at Windmills: Wine, Tapestry to Tales in Madrid – September 2013
Spirit of China – October 10 to 22. 2013