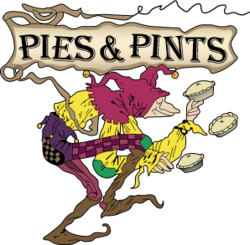 Seattle, WA (PRWEB) February 28, 2013
The locally owned and operated dinner restaurant and pub will celebrate its ninth anniversary (or "Golden Birthday") on 3/9/13. P&P will be serving their usual menu of pot pies, sides and drinks, but will also be offering free cupcakes to its patrons in celebration of the milestone.
Additionally, Pies and Pints will be observing "Pi Day" for the ninth straight year on 3/14. Each year, the pub pays tribute to the infinite number by printing a limited run of original design t-shirts that usually sell out quickly. According to General Manager Kenny Ball, the day is "always really busy, mostly with local math students or people who work in math related fields."
The Beard and 'Stache Fest is expected to attract a different crowd when held at the Seattle dinner restaurant and pub on 3/27. Pies and Pints will be hosting a "Karaoke-Grass", which is a live bluegrass/karaoke band that will accompany the ample supply of facial hair, brews, and food. A portion of the proceeds from the fest will be donated to Treehouse, a charity that works to improve the lives of foster children.
Pies and Pints, established in 2004, is a local Seattle/Roosevelt WA area family-style pub that dishes up pot-pies, live music, and happy hour specials daily. For more information about P&P, please visit http://www.piesandpints.com or call 206-524-7082.