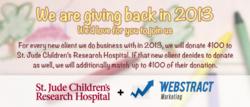 Webstract Marketing believes in supporting such worthy organizations and therefore, they have formed a year-long partnership with St. Jude Children's Research Hospital
Anaheim, CA (PRWEB) February 28, 2013
In a desire to give back to others, leading website design company, Webstract Marketing, will be making donations to St. Jude Children's Research Hospital through 2013. The internet marketing service has set up a year-long partnership with the children's hospital to support their efforts in providing the best medical care possible.
St. Jude Children's Research Hospital was founded by entertainer, Danny Thomas, as a place where all children would be welcomed, regardless of income or background. Since the opening of its doors in 1962, the hospital has cared for thousands of children and been able to make numerous advancements in children's medicine. Entirely supported by private donations, the hospital needs the generosity of others to continue its invaluable work as operating costs currently run at over a million dollars a day.
Webstract Marketing believes in supporting such worthy organizations and therefore, they have formed a year-long partnership with St. Jude Children's Research Hospital. During the year, 2013, the company will make a donation to the hospital with the following:

$100 for each new client the company does business with
$100 for each current client that hires the company to build a new website
Matching donations made by new or current clients, up to $100
To help raise more money for the children's hospital, the internet marketing company is also partnering with local communities to spread the word and encourage others to get involved. The hospital's strive for excellence is well-known and something that Webstract Marketing can easily relate with.
Just as St. Jude Children's Research Hospital works to find cures for children's diseases, Webstract Marketing works to find the right marketing solution that focuses on their client's business needs. They listen to what clients want and then provide answers to their questions. Each client is treated as an individual and encouraged to create their own marketing plan from a wide selection of services such as: web design, Ecommerce websites, web development, custom video, copywriting, search engine optimization, and web hosting. The marketing company was created by experienced marketing professionals that understand the online marketing environment.
In helping new clients, the company is also helping to fund research that will hopefully discover the cure to cancer and other terminal diseases children suffer from. For more information on the Webstract Marketing partnership with St. Jude Children's Research Hospital, please go to http://www.webstractmarketing.com/giving-back-2013/.
About Webstract Marketing:
Located in southern California, Webstract Marketing was created to give companies the marketing answers they are looking for. The company specializes in listening to customers' needs and then helps them build a customized, long-term marketing plan that fits their business. Using a combination of over 35 years of experience in Internet marketing and web design, the company works with clients nationwide. For more information about Webstract Marketing, please visit their website at http://www.webstractmarketing.com.
Contact Information:
Bill Holcroft
855-201-5800
bholcroft(at)webstractmarketing(dot)com