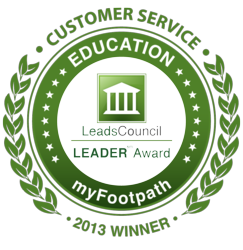 "The LEADER Awards provides a distinct direction for our members as to who they should work with..." Michael Feree of LeadsCouncil
Chicago, IL (PRWEB) February 28, 2013
myFootpath, a company that provides enrollment services for colleges and universities, received a 2013 LEADER Award from LeadsCouncil for "Best Customer Service" in the Education category.
"The key to our success is that we really understand our clients and their needs, and can therefore go above and beyond to provide that personal touch. Quality and customer service have been our main focus, and this award is a recognition of those efforts and the progress we've made. We're thrilled to be recognized," myFootpath CEO J.T. Allen said.
LEADER Awards are voted on by all members of LeadsCouncil, the leading independent industry organization focused on online lead generation. The awards are designed to help LeadsCouncil members determine which companies are performing the best amongst their peers. Membership is made of up buyers, sellers, and service providers.
"Navigating the lead generation industry can be a challenging task for any company. In many cases it comes down to testing new sources after new sources and then duplicating the process again and again. This can be extremely taxing and frustrating for buyers," said Michael Ferree, Director of the LeadsCouncil. "The LEADER Awards provides a distinct direction for our members as to who they should work with, and I think that is great thing."
Allen credits the company's outstanding customer service to its dedicated sales team. These staff members are devoted to the cultivation of long-term partnerships with clients.
Longevity in the space has also helped myFootpath adjust to changes in the industry and the precise needs of customers. The company was founded in 2000 by leading guidance counselors and has, to date, helped over 1,000,000 students find the right college.