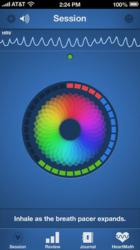 It's time for technology to help people de-stress rather than being the source of stress and overload for so many.
BOULDER CREEK, CA. (PRWEB) February 28, 2013
HeartMath is today launching a new solution to knock out stress and build resilience with its highly-anticipated Inner BalanceTM App, now available for download on iTunes. Inner Balance works exclusively with its highly accurate HeartMath Inner Balance sensor for iOS ($99), available from major resellers and in the HeartMath online store.
The 2012 American Psychological Association Stress in America Report states that 60 percent of adults have tried to reduce their stress, yet more than half are still trying to meet this goal. HeartMath, developers of Inner Balance, are offering Americans – and all people alike – a highly effective and proven approach for effectively reducing emotional stress. Using advanced technology, this mobile solution can help people increase their mental and emotional resilience and establish increased levels of inner balance.
A specialized sensor for Inner Balance monitors the user's heart rhythms in real time, provides immediate coaching during sessions and improves internal coherence achievement scores right in the moment. All these features are built into the Inner Balance app and there's no need to wait until a computer is available to see results, as with many other apps.
Inner Balance provides a unique and effective approach for changing old stress reactions to a new level of personal balance and a sense of inner ease. Real-time feedback, along with practical techniques and journaling in the app, provides a strategy for changing one's stress response and set-point.
The Inner Balance app and sensor helps its users effectively manage stress, make better decisions, feel better and live a more quality life.
The Inner Balance app and sensor have already stacked up two accolades, claiming a top-25 spot in both the Mobile Apps Showdown and the Last Gadget Standing competitions at the 2013 International Consumer Electronics Show.
More than two decades of HeartMath emotion-stress management research set a foundation for this convenient mobile technology. The new app from HeartMath brings features from their popular emWave® technology to iOS devices.
"We're thrilled to provide our transformative technology to the mobile app market, to help people stay balanced and composed in challenging situations. Inner Balance truly is a unique offering," said president and CEO of HeartMath, Dr. Deborah Rozman. "The excitement over the app and sensor at the recent Consumer Electronic Show confirmed just how relevant it is. It's time for technology to help people de-stress rather than being the source of stress and overload for so many.
Inner Balance literally takes users to the heart of where emotions and physiology merge, providing the most effective method for reducing emotional stress while building resilience. To start the journey, Inner Balance asks the user how they are feeling in the present moment. The app then provides unique breathing pacers and proven techniques to assist in calming the mind and shifting focus to the heart.
The app provides users with a simple yet scientifically validated technique called "Quick Coherence" to achieve a state of inner balance and ease. Much like having a personal trainer on hand, users get real-time feedback to indicate when the desired goal has been achieved and a shift in the heart rhythms and emotions has occurred. Inner Balance provides:
● a simple yet scientifically validated technique to release stress and shift into a more desirable emotional state
● goals to follow that help you reach new levels of inner balance and resilience
● a history of all sessions and progress tracked over time
● a journal to review feelings or experiences that may have contributed to different session outcomes
The goal of the Inner Balance app and sensor is to get the heart, mind and emotions in sync (physiological coherence) to improve well-being and performance.
As users learn to release stress and shift into the coherence zone, they can start to create a new internal baseline of resilience so that stress has less control. User-friendly graphics display coherence scores, which prove to be highly reflective of emotional state.
For those who want to delve even deeper, the app offers unique "quantified self" features including advanced screens and charts that provide a more detailed view of changing heart rhythms and amount of time in the coherence zone.
"While there are many heart rate apps available, Inner Balance is the only app and sensor that provides more than heart rate variability (HRV) feedback. The addition of coherence measurements, intelligent coaching and training within the app is unique in the market," said HeartMath's Chief Marketing Officer, Catherine Calarco. "We're thrilled to bring this advanced solution to consumers that are serious about reducing their stress."
###
About HeartMath®:
HeartMath (http://www.heartmath.com) was founded by Doc Childre. HeartMath is a cutting-edge performance company providing a range of unique services, products and technologies to improve health and well-being, while dramatically reducing stress. HeartMath clinical studies have demonstrated the critical link between emotions, heart function and cognitive performance. HeartMath studies have been published in numerous peer-reviewed journals such as American Journal of Cardiology, Stress Medicine, Preventive Cardiology and Journal of the American College of Cardiology. HeartMath's emWave® technology products have won numerous awards including the Last Gadget Standing People's Choice Award at the 2009 International Consumer Electronics Show.
emWave® is a trademarks of Quantum Intech. HeartMath® is a trademark of the Institute of HeartMath. iTunes is a trademark of Apple Inc., registered in the U.S. and other countries.