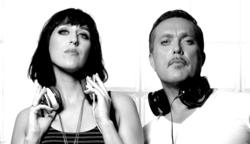 "Sound of the Beat" is memorable, engaging, and well constructed, full of color and texture, two important elements in EDM
Chicago, IL (PRWEB) February 28, 2013
Hailing from the birthplace of House Music, Chicago based Tech House act (We Are) Nexus has been hard at work in their production studio in the West Loop, cranking out their latest creation "Sound of the Beat."
Known for their unique Tech House meets World Music sound, there is definitely something special happening with their second release "Sound of the Beat." With driving congas and a subtle acoustic guitar line it is reminiscent of Tube and Berger's "Imprint of Pleasure." Add in a sultry lead vocal from Carmen Rainier and the result is a highly memorable Tech House/World Music hybrid that is fresh and invigorating and all their own.
While their first single "Broken" was not quite as deep as "Sound of the Beat," it seems this duo is really finding their stride creating textures that are simply mind blowing. "Sound of the Beat" is memorable, engaging, and well constructed, full of color and texture, two important elements in EDM. Nexus is clearly proving that they have the goods, on many levels, with this latest song.
Traditionally, Tech House, and House music in general, tend to meander a less structured musical path compositionally, with different rhythms and beats more or less following the same straight line. This is where Nexus' differs, creating sounds that blaze a path less traveled. Bobbing and weaving through vocal driven verses and dropping into pounding deep choruses, Nexus takes pride in constructing well executed and composed music.
Nexus Producer Nick Gunn is no stranger to the music biz. With over two million sales as a world music artist under the name Nicholas Gunn, the Nexus sound incorporates much of his world music past. "I can't help but want to go deeper into creating more complex music with our sound" says Gunn. "Just because its Tech House or EDM it doesn't mean it has to be the same thing everyone else is doing."
With EDM on the rise it is clear that anything goes in this genre of music that calls itself home to a myriad of sub genres such as Trance, Trap, Dubstep, Electronic, Nu Disco--the list goes on and on. "It is a very open genre of music artistically," says Nexus vocalist and lyricist Carmen Rainer. "I want to bring to it clever, provocative lyrics and create a sense of wonder with our music. There is so much amazing music coming out of EDM right now and you can see the genre is starting to attract some of the industries brightest talent. I just happy to be a part of that."
There are two versions of "Sound of the Beat" to sink your teeth into: a Radio Edit and an Original Mix. Both can be found on their Soundcloud or on their website at http://www.wearenexusedm.com.