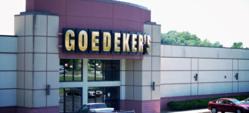 The voice of our customer is the most important voice we hear.
Ballwin, MO (PRWEB) February 27, 2013
As part of a continuing strategy to improve customer satisfaction and grow their online brand, internet retailer Goedeker's is increasing interaction with online review sites. As a result, Goedeker's reviews on BizRate.com, a shopping comparison and review platform, have been increasing in recent weeks.
"The voice of our customer is the most important voice we hear," says CEO Steve Goedeker. "Review sites like BizRate help us reach out to our customers and understand what they like or what has caused frustration. This allows us the flexibility to test new features and products while improving or eliminating problematic areas. Customer feedback like that is the only way we can be confident in future growth."
Goedekers customers have left a variety of reviews which have resonated at the Ballwin, MO based retailer. Based on customer feedback, changes have been made to processes and technology that drive the company's website. Says Goedeker, "We've upgraded our servers to improve site speed and we have more updates planned for launch in the near future. We'll keep updating until Goedeker's becomes the best resource available. And then we'll make it better."
Customers have responded well to website design changes launched in November, 2012. "This is one of the easiest sites to search and purchase from I have ever used," wrote one satisfied customer. Another customer stated, "I like the no gimmic site."
The most common concern expressed through Goedekers customer reviews at BizRate center around clarity regarding shipping times. "We make every effort to get customers their orders within two weeks," says Goedeker. "We're continuing to work with our suppliers and delivery partners to ensure that customers get their orders in good condition as quickly as possible."
In the coming weeks, Goedeker's will expand its efforts to gather customer feedback through online review sites. As the retailer begins interactions through additional avenues, information on those customer review platforms will be placed in the Goedeker's Reviews page.
ABOUT GOEDEKER'S
Goedeker's is a family owned and operated home goods retailer located in the St. Louis, Missouri, suburb of Ballwin. First established in 1951 as an electronics repair shop, Goedeker's has grown to be one of the largest, most trusted independent retailers of home appliances, furniture, mattresses, and plumbing supplies online. For more information, or to read Goedekers reviews, visit http://www.goedekers.com/.