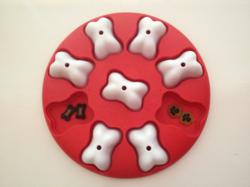 Providing our dogs with the things needed to remain healthy and happy is very important to us so we want to provide those things to our customers for their pets as well.
Houston, TX (PRWEB) February 28, 2013
With the spring season just around the corner, people begin planning for many things such as spring cleaning, new plants and flowers for the yard or garden, and new eating and exercise routines so we can be healthier and happier. Pets should be included when planning to be healthier and happier as your pets, too, require such care. Doggy In Wonderland has everything essential to contributing to a happier and healthier dog.
Doggy In Wonderland recently added a line of organic and all natural treats by Zuke's in Very Berryz, Mean Greenz, and Health Nutz flavors. Because all dogs require a healthy diet, Doggy In Wonderland strives to offer the best and most nutritious foods and treats for dogs including all natural dog food by Sojos as well as a variety of all natural dog treats.
All dogs require a certain amount of exercise in order to stay healthy and active, and one of the best ways to combine one's exercise with a dog's is to go for a walk. Doggy In Wonderland offers a wide variety of
leashes which are required for dog walking including the Quantum Lead which can quickly go from a 6 foot lead leash to a 3 foot training leash. This lead also rapidly changes from a standard leash to a hands-free over the shoulder leash, and it is available in several colors. The online pet boutique has recently added a few new stylish leads to their product line with plans to add more. Doggy In Wonderland has also added several harness vests and dresses with D rings to aid in walking smaller dogs.
Doggy In Wonderland offers many dog toys to promote exercise for pets. Several active dog toys which involve the dog chasing after items such as balls or discs work very well for exercise and may be purchased at Doggy In Wonderland. Treat dispensing toys such as dog puzzles stimulate and challenge dogs keeping their minds active and alert. As with people, a healthy mind contributes to a healthy body. The team is currently searching for more dog puzzles to add to the line-up.
After a fun filled day, dogs need to retreat to their own space for rest and relaxation. This comes in the form of dog beds or crates. Doggy in Wonderland offers many styles of beds including eco-friendly and orthopedic for the older arthritic dog. Dog crates offer a safe place for rest as well as allow owners the peace of mind in knowing that the dog is not getting hurt or 'getting into trouble' while they are out.
"Our pets are family to us, and we want them to be healthy as well as happy. Providing them with the things needed to remain healthy and happy is very important to us so we want to provide those things to our customers for their pets as well, " one managing partner expressed. "We search for the products with the best ingredients and highest quality in order to fulfill those needs."
About Doggy In Wonderland
DoggyinWonderland.com is a leading on-line pet boutique offering a wide array of chic dog products. In addition to the above mentioned products, other items available for purchase are stylish dog clothing, collars, pet furniture, eco-friendly pet gear, pet carriers, and a growing collection of cat products as well. The goal is not only happy and healthy pets, but also 100% customer satisfaction. Call 866.280.1818 for more information, and see the full product range at DoggyinWonderland.com.