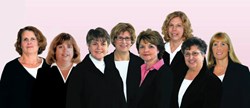 The CareGiver Partnership provides the best service in the industry by delivering Personalized Attention™ service — 1950s style.
Neenah, WI (PRWEB) February 28, 2013
The CareGiver Partnership is expanding for the third time since 2005, this time doubling its space to accommodate business growth. This woman-owned company, which began in the face of a great recession, since has grown five-fold and continues to create jobs and revenue in Northeast Wisconsin. Founder Lynn Wilson attributes its success to her company's unique customer service model, an aging population, a desire for individuals to remain in their homes as long as possible, and the growth of e-commerce.
"The CareGiver Partnership provides the best service in the industry by delivering Personalized Attention™ service — 1950s style," says Wilson. "We answer all calls by the third ring right here in Neenah, and because we hand-record orders, our customers always have our undivided attention."
The CareGiver Partnership call center, now located at 711 Deerwood Ave., Suite A, Neenah, is staffed by women age 55 and older. "Why? Because most caregiving in the United States is provided by women, 90 percent of our calls are from women and they've told us they prefer to speak to a woman," says Wilson.
The Product Specialists all are current or former caregivers and are highly knowledgeable about the products offered. The company recently added four employees, including a product specialist, graphic designer, web developer and accountant.
"We have more than 20,000 happy customers from coast to coast, and with 10,000 boomers turning 65 every day for the next 20 years, we expect continued growth," Wilson says.
The CareGiver Partnership offers more than 500 incontinence products alone, 10 times more than even the big stores, according to Wilson. Ninety-five percent of the products it carries are manufactured in the United States. In the interest of supporting the local economy, it has an ongoing relationship with Kimberly-Clark Corp. to market the Depend® and Poise® brands. It also supports the TENA® and Serenity® brands manufactured by local employer SCA Tissue.
Customers who choose to order online enjoy a safe and secure shopping environment. The site is continually tested among caregivers and seniors to ensure it is easy to use. "While we have a Web site, we're not a Web-only business. We focus on personal service," says Wilson. The CareGiver Partnership has a Better Business Rating of A+ and a STELLAService rating of Excellent.
Other unique facets of The CareGiver Partnership include Never Run OutSM Automatic Scheduled Delivery service, Try Before You Buy sample service, the largest online library of caregiver resources, helpful videos and testimonials, and a blog with hundreds of articles on family caregiving.
The CareGiver Partnership is a national direct-to-consumer retailer of home healthcare products for incontinence, skin care, mobility, daily living aids, nutrition support and more. In its seventh year of providing products and services that help caregivers and loved ones maintain personal dignity, the company also offers an online library of more than 1,400 family caregiver resources and personal service by experts in caregiving. Call 1-800-985-1353 or visit http://www.caregiverpartnership.com.