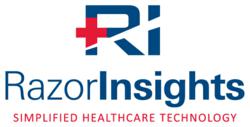 Kennesaw, Georgia (PRWEB) February 28, 2013
Earlier this month, CEO Reed Liggin, R.Ph, MBA, had the opportunity to converse with and answer questions posed by the anonymous HIStalk creator, Mr. HIStalk. Already aware of RazorInsights being a provider of fully-integrated, SaaS-based health IT solutions for Rural, Critical Access and Community hospitals, Mr. HIStalk was interested in learning how it all began and where RazorInsights plans to take it.
Here is an excerpt from the transcribed interview:
Mr. HIStalk: Tell me about yourself and the company.
Reed Liggin: RazorInsights was formed in December of 2010. We are an enterprise hospital information system company. We named our company from the principle of Occam's Razor, which says the best explanation is usually the simplest one. Our tag line is "Simplified Healthcare Technology." Our goal was to build an electronic health record initially that was easy to use, simple to learn, and something that you would purchase from the company that would be easy to do business with and simple to do business with. We offer the solution on cloud technology. It's software as a service. It's a single integrated database on a multi-tenant cloud. We call our solution ONE simply because it's on a single database. As for my background, I'm a pharmacist by trade and have been in health IT since around 1997. I formed the company with two colleagues that I worked with in the past, Edward Nall and Michael McKenzie.
Mr. HIStalk: I don't even remember the last time somebody wrote a new full-hospital system from scratch. Why haven't they done that, and why is RazorInsights doing that now?
Reed Liggin: [laughs] Well, I think we're just crazy enough to give it a try. It's really a big challenge and a daunting task. Our initial roadmap was the EHR Meaningful Use criteria that was released in 2010 along with the pharmacy system. We felt that medication management was the core of a good clinical system. We started there, and we've evolved into a full enterprise HIS as a response to market conditions and the opportunity that's been presented to us.
Read the complete HIStalk interview with CEO of RazorInsights, Reed Liggin>
About RazorInsights:
Based in Kennesaw, Georgia, RazorInsights is a dynamic healthcare information technology company. In keeping with the principle of Occam's Razor, they have created a simplified HIS solution for Rural, Critical Access and Community hospitals. Introducing ONE (ONC-ATCB 2011/2012) — a single-database, cloud solution offering a simple user experience with cutting-edge clinical tools and industry-standardized data. Hospitals can expect to improve their performance and bottom line with ONE from RazorInsights. To register for a live product demo or for more information, visit razorinsights.com or call 770-308-4111.