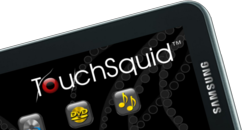 As a third party alternative to Google Play Store, Simple Remote control can sell and deliver the Touchsquid Remote App Pro Version worldwide.
North Vancouver, BC (PRWEB) February 28, 2013
For the first time, the Touchsquid Remote App is now available for sale through authorized Touchsquid Licensed Resellers. First launched in Nov. 2011, the Touchsquid Remote App was previously only available through the Google Play Store. This licensing program expands the Touchsquid Remote App reach to countries where Google Play Store is not available.
Based in North America, Simple Remote Control now offers the Touchsquid Remote App through its online web store. Users may download the Touchsquid Remote App from the web directly to their Android device and proceed to download and activate their Remote App through the internet.
The Google Play Store free applications are available worldwide, while paid applications are available only to 129 countries. Simple Remote Control will now be able to sell and deliver the Touchsquid remote app Pro version worldwide.
The powerful Professional version of the Touchsquid Remote Control App allows full remote control of complex high end home theater systems. It provides comprehensive user definable macros. A macro is a sequence of commands which can perform complex tasks. Macros can be attached to any command including user defined buttons.
Touchsquid Remote App Pro will work with all Samsung Tablets that have built-in IR blasters. It will also work with generic tablets in combination with an external IR blaster such as Global Cache, Keene, and IRTrans.
The Touchsquid Pro Remote Control App for Samsung is also available on Google Play and the Amazon App Store. The PRO version sells at $49 and the Home version at $19. A demo version is available for free download.
TouchSquid Technology Inc. is an emerging developer of Remote Control solutions for the home entertainment industry. Located in North Vancouver, BC, Canada, its flagship product is the TouchSquid Remote App for for use with Samsung tablets with built in IR or generic tablets in use with an external IR Blaster. The company also sells a proprietary all-in-one infrared Touchsquid Android tablet We welcome dealer and distributor inquiries. For more information, email us at info.touchsquid.com or call 1-888-505-9895