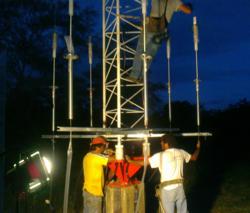 The station's audio is clear and performance is far superior when compared to the previous antenna
Greenville, NC (PRWEB) February 27, 2013
LBA Technology, Inc., a division of LBA Group, Inc., continues a long history of providing equipment and engineering services to Spanish speaking America and throughout the world. The company's latest effort produced an outcome in Asuncion Paraguay that some might view as impossible.
LBA was commissioned by Metropost after Paraguay Radio Premiro de Marzo lost its tower to a storm. After analyzing data provided by Metropost, LBA recommended a medium wave antenna system that not only met new height restrictions that were being imposed on the 780 kHz, 50 kW station, but it ultimately doubled the station's effective coverage area.
LBA engineered and delivered a unique and economical high powered antenna solution that Metropost was able to deploy quickly. Installation of the new LBA system was finalized within 24 hours of its arrival. Workers stayed on site around the clock until the job was complete. The end result was that Radio Premiro de Marzo was back on the air in a relatively short amount of time with a greatly enhanced transmission facility.
"The station's audio is clear and performance is far superior when compared to the previous antenna," said Metropost executive Pedro Colman. This means one of the region's most powerful stations is now serving areas it had not been able to reach prior to the storm that took down its original tower.
This isn't the first time LBA has engineered and delivered an unusual solution for a high powered AM in Paraguay. The company studied a challenge presented by Radio Monumental and recommended a 100 kW LBA System with a parasitic radiator that continues operating at 1080 kHz. Nearly half of the AM stations in Asuncion Paraguay are using LBA engineered antenna products.
The company continues a proud tradition of engineering unique yet economical solutions for medium wave broadcast antenna applications in Paraguay and throughout Latin America and Spain. For more information, visit the LBA web site at: http://www.lbagroup.com/products/broadcasting, or contact Javier Castillo, 252-317-2129, jcastillo(at)lbagroup(dot)com.
About LBA Group Inc.
LBA Group, Inc. has 50 years of experience in providing electromagnetic protection for industrial and telecommunications infrastructure assets. It is comprised of LBA Technology, Inc., a leading manufacturer and integrator of radio frequency systems, lightning protection, and EMC equipment for broadcast, industrial, and government users worldwide; the professional engineering consultancy Lawrence Behr Associates, Inc.; and LBA University, Inc. providing on-site and online professional training. The companies are based in Greenville, N.C., USA.