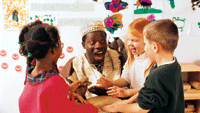 Vienna, VA (PRWEB) February 28, 2013
Wolf Trap Foundation for the Performing Arts, a national leader in the performing arts and arts education, is partnering with Detroit non-profit Living Arts to bring its specialized early childhood arts integration model to pre-K classrooms in Southwest and Metro Detroit. As part of this newly installed Wolf Trap Regional Program, the Wolf Trap Institute will train Living Arts' Early Learning teaching artists in Wolf Trap methodologies of infusing the performing arts into pre-K curriculum to support young children's social, emotional, physical, language and cognitive development. This training will enhance Living Arts' El Arte Early Learning program, which has provided arts-infused residencies at Matrix Vistas Nuevas Head Start Centers in Detroit since 1996. Classroom teachers and children will be engaged in drama, music, and movement experiences during eight-week residencies scheduled to begin in 30 classrooms in mid-March.
Detroit Wolf Trap residencies will be delivered at 14 Matrix Vistas Nuevas Head Start Centers, the largest Head Start provider in the city, as well as in pre-K classrooms of 17 Detroit public schools. Living Arts was awarded a Social Innovation Fund (SIF) grant by the United Way for Southeastern Michigan, which helped make Detroit Wolf Trap possible. SIF is a 5-year federal grant recognizing the best and most promising practices in early childhood education across the nation. The grant also provides Living Arts the opportunity to align their evidence-based El Arte learning program with the national best-practice model developed by Wolf Trap. In addition to Detroit, United Way is a current sponsor of Southern Nevada Wolf Trap and Delta Wolf Trap in Arkansas, Memphis, and Mississippi.
Wolf Trap's renowned arts education program, the Wolf Trap Institute for Early Learning Through the Arts, has been in existence for more than 30 years and serves approximately 50,000 children, parents, and teachers in more than 1,200 classrooms across the country each year. In addition to regional programs throughout the U.S., the Institute has taken its services as far as Jamaica, England, Greece, Wales, Canada, Italy, Ireland, Northern Ireland, Brazil, and Mexico.
"We are incredibly excited about the installation of Detroit Wolf Trap and the arts in education opportunities on the horizon for so many young children in Detroit pre-K classrooms," said Wolf Trap Education Senior Director, Akua Femi Kouyate. "We also appreciate the generous support Living Arts is receiving from United Way and matching founders including PNC and WK Kellogg Foundation, which demonstrates the founders' continued commitment to enrich the lives of our nation's youth through their support of programs that prepare young people to succeed in education and life."
In addition to the classroom residency program, Detroit Wolf Trap plans to have Wolf Trap Master Teaching Artists conduct professional development workshops and family workshops throughout the community in support of Detroit schools' and Living Arts' commitment to provide early childhood education training for professional educators, parents, and caregivers.
For more information about the Wolf Trap Institute for Early Learning Through the Arts, call (703) 255-1933 or email education(at)wolftrap(dot)org.
About Wolf Trap Foundation for the Performing Arts
Wolf Trap Foundation for the Performing Arts, a 501(c)(3) nonprofit, founded by Catherine Filene Shouse (1896-1994), produces and presents a full range of performance and education programs in the Greater Washington area, as well as nationally and internationally. Wolf Trap features three performance venues, the outdoor Filene Center and Children's Theatre-in-the-Woods, both located at Wolf Trap National Park for the Performing Arts, and The Barns at Wolf Trap, located down the road from the national park and adjacent to the Center for Education at Wolf Trap. The 7,028-seat Filene Center is operated in partnership with the National Park Service and annually showcases an extensive array of diverse artists, ranging from pop, country, folk, and blues to classical music, dance, and theatre, as well as multimedia presentations, from May through September. The Barns is operated by the Foundation year round, and during the summer months is home to the GRAMMY-nominated Wolf Trap Opera Company, one of America's outstanding resident ensemble programs for young opera singers. Wolf Trap's education programs include the nationally acclaimed Wolf Trap Institute for Early Learning Through the Arts, Children's Theatre-in-the-Woods, a diverse array of arts education classes, grants, and a nationally recognized internship program that was included in Bloomberg BusinessWeek's 2009 List of "Best Places to Intern." As part of its ongoing commitment to protect and preserve the environment, Wolf Trap offers metro access and is a founding member of the Green Music Group. Visit the Wolf Trap website at http://www.wolftrap.org for more information.
About Living Arts
Founded in 1999 as Southwest Dance, Living Arts transformed from a merger in 2008 of Southwest Dance and El Arte Alliance, creating a multifaceted arts provider dedicated to youth development, cultural enrichment, and the progress of the entire community. A non-profit 501(c )(3), its mission is to strengthen the youth and neighborhoods of Detroit through dance education, multi-disciplinary arts-infused academics, and community arts programs that spark the imagination and foster learning through arts and culture. Through El Arte, artists and teachers use hand-on methods in the classroom to integrate the arts into core subjects to improve student performance. Southwest Dance is a studio-based program offering regular classes in ballet, tap, jazz, tumbling, break-dance, hip hop, creative movement, modern and salsa to youth and adults of all ages. Living Arts' has been recognized many times in its 14-year history for the quality of its programs and related community arts initiatives.
###